Products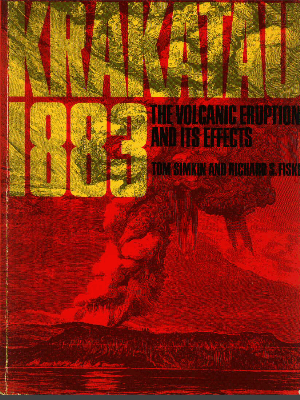 Krakatau
was the accepted spelling for the volcano in 1883 and remains the accepted spelling in modern Indonesia. In the original manuscript copy submitted to the printers of the 1888 Royal Society Report, now in the archives of the Royal Society, this spelling has been systematically changed by a neat red line through the final
au
and the replacement
oa
entered above; a late policy change that, from some of the archived correspondence, saddened several contributors to the volume.
During a 23-hour period on 26 and 27 August 1883, volcanic debris thundered upward from Krakatau volcano in history's most famous eruption. Over 36,000 people were killed, largely by waves cresting to heights over 100 feet, and the atmospheric effects were global. Published on the occasion of the centennial of the eruption, Krakatau 1883 includes:
- 88 expressive eyewitness descriptions of the eruption, the far-traveled sounds, the devastating sea waves, the floating pumice, and the remarkable sunsets that followed.


- 28 reprinted scientific accounts, published throughout the last 100 years, that provide successive interpretations of the effects of the eruption, plus descriptions of the return of life to the barren island remnants.


- Much of Verbeek's classic 1885 monograph, translated from Dutch into English for the first time.


- Accounts of the 1927 birth of Anak Krakatau and its continuing volcanism.


- 16 full-color plates featuring chromolithographs of the devastation 7 weeks after the eruption, plus illustrations of sunsets and other optical effects of the global volcanic veil.


- 139 figures, including many previously unpublished photographs, detailed maps, and engravings of the time.


- A 27-page chronology, a 474-entry bibliography, and a name/subject index.
"The scientific studies collected in this book will be of interest... primarily to volcanologists, but the stories provided by eyewitnesses present no problem to the general reader . . . Krakatau... is not likely to cede the position of eruption most eloquently described." -- The Atlantic Monthly

---

Simkin, Tom, and Fiske, Richard S., 1983, Krakatau 1883: the volcanic eruption and its effects: Smithsonian Institution Press, Washington DC, 464 p.

This book is no longer in print. Please consult your local librarian or used book dealer if you wish to obtain this book. A limited number are available free for library or institutional use. Contact GVP by email using the link at the bottom of the page.