Products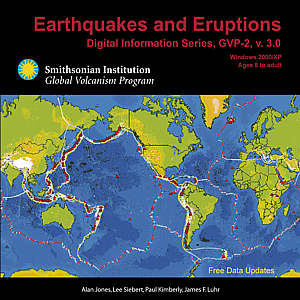 This CD-ROM contains four informative interactive computer programs based on global datasets for earthquakes and volcanic eruptions since 1960. Earthquakes Through Time and Eruptions Through Time display these events in time sequence on world and regional physiographic maps. The Smithsonian Exhibit Version combines these datasets in a simplified format ideal for classroom and museum settings. Seismic Waves highlights six large earthquakes and shows how the resulting seismic-wave fronts travel through the Earth and across its surface. Runs on Windows 9x/NT/2000/XP.

Taken together these four programs reveal the excitement of modern seismology and volcanology and show how earthquakes and volcanic eruptions, event by event, build a record that scientists use to understand the basic workings of our planet.

Support for this software has been discontinued, so there are no longer annual data updates available.
---

Jones, A., Siebert, L., Kimberly, P., and Luhr, J.F. (2006-). Earthquakes and Eruptions, v. 3.0 (CD-ROM). Smithsonian Institution, Global Volcanism Program, Digital Information Series, GVP-2.

These are no longer for sale, but a limited number are available free for personal or institutional use. Contact GVP by email using the link at the bottom of the page.