Report on Tungurahua (Ecuador) — June 2005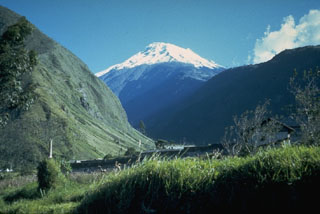 Tungurahua
Bulletin of the Global Volcanism Network, vol. 30, no. 6 (June 2005)
Managing Editor: Richard Wunderman.

Tungurahua (Ecuador) Ash plumes and LP earthquakes still common in 2004-2005
Please cite this report as:

Global Volcanism Program, 2005. Report on Tungurahua (Ecuador) (Wunderman, R., ed.). Bulletin of the Global Volcanism Network, 30:6. Smithsonian Institution. https://doi.org/10.5479/si.GVP.BGVN200506-352080
Tungurahua
Ecuador
1.467°S, 78.442°W; summit elev. 5023 m
All times are local (unless otherwise noted)
The eruption of Tungurahua that began at the end of December 2003 (BGVN 28:11) continued through January 2004 (BGVN 29:01). Figure 25 shows an ash plume emitted on January 2004 in a Moderate Resolution Imaging Spectroradiometer (MODIS) image.
Figure 25.

A NASA MODIS image showing an ash plume from Tungurahua acquired 14 January 2004. N is up; the plume's height and length were undisclosed. Arrow points to Tungurahua and is along the approximate trend of the densest portion of the plume. The plume blew NE across the Andes and remained visible well over the thickly vegetated lowlands farther E. (Visible Earth v1 ID 26233.) Courtesy of NASA. Inset map showing major active Ecuadorian volcanoes courtesy of the USGS.
On 5 February 2004 there was a slight increase in seismic activity at Tungurahua; steam emissions rose to low levels, and small lahars traveled down the volcano's W flank via the Achupashal and Chontapamba gorges. On 9 February emissions of steam, gas, and moderate amounts of ash occurred, deposited to the W in the sectors of Pillate and San Juan. During mid February, several avalanches of incandescent volcanic blocks traveled ~ 1 km down the volcano's flank. During late February through mid April 2004, degassing continued at Tungurahua with occasional explosions of steam, gas, and ash, producing plumes to ~ 500 m above the volcano.
On 2, 11, and 15 March lahars traveled through the Pampas sector. During the night of 28-29 March incandescent material was observed avalanching on the upper slopes. From 30 March to 3 April, volcanic activity was at relatively low levels, but emissions of steam and ash occurred, and incandescence was visible in the crater. On 4 April at 1902 an explosion produced a plume containing a moderate amount of ash that rose to 800 m above the crater, and on the evenings of 10 and 11 April, incandescence was visible in the crater.
Sulfur-dioxide flux measurements taken on 11 April were the highest measured for several weeks; 1,600-1,700 metric tons per day. Heavy rain during the afternoon and night of 13 April triggered a lahar that cut the La Pampa section of the Baños-Pelileo road.
Volcanic activity at Tungurahua at the end of April 2004 was at moderate levels. On 21 April, a column of steam, gas, and ash rose to a height of ~ 1 km above the volcano and drifted NW. Ash fell in Bilbao, Cusúa, San Juan, Cotaló, Pillate, and Juive sectors. A plume reached ~ 0.5 km on 22 April and deposited ash in the towns of Ambato (to the NW) and Baños (to the N). During the evening of 24 April, incandescence was visible in the crater, and incandescent blocks rolled a few meters down the volcano's NW flank.
Volcano-tectonic earthquakes on 27 and 28 April preceded a slight increase in the number of sudden explosions at Tungurahua on 30 April. According to news reports, ash fell in the towns of Cotaló, and San Juan (W of the volcano) on 1 and 2 May. The level of seismicity at Tungurahua decreased on 4 May. On 12 May, an explosion produced an ash cloud to ~ 3 km above the volcano that drifted SW, and on 13 May seismicity increased moderately, related to the increased numbers of emissions. Incandescence was visible at the lava dome during some nights.
From mid May through June, small-to-moderate emissions of gas, steam, and ash continued at Tungurahua. The highest rising plume reached ~ 2.5 km above the volcano on 23 May. On the morning of 19 May a mudflow occurred in the Pampas sector, but it did not affect the highway. Strombolian activity was visible in the crater on the evening of 23 May. During 2-8 June, activity remained moderate with several weak to moderate explosions recorded per day. Sporadically observed gas-and-ash and gas-and-steam plumes rose up to 1 km above the summit. A strong explosion on 5 June produced a gas-and-ash plume that rose 2 km above the summit. All plumes drifted W. Seismicity remained at moderate levels. On 3 June, possible lahars were noted on the N and NW flanks.
Several explosions occurred on 10 June, with the largest rising ~ 3 km above Tungurahua's summit and drifting W. A small amount of ash fell in the Pillate area, and a lahar destroyed a bridge in the Bibao zone. During mid to late June, there was a slight increase in volcanic activity at Tungurahua in comparison to the previous weeks. There were several emissions of steam, gas, and moderate amounts of ash, and 5-10 explosions occurred daily. Seismicity was characterized by long-period earthquakes.
From July through December 2004 the level of volcanic and seismic activity diminished at Tungurahua, with sporadic moderate explosions of ash and gas. The highest rising plume reached ~ 1.5 km above the volcano. Seismicity was at relatively low levels. Incandescence in the crater was observed at night on several occasions. Some explosions on 20 September generated plumes with ash, causing ashfall in Bilbao and Pondoa, and on the evening of 21 September, Strombolian activity was seen, with volcanic blocks thrown as high as 200 m above the volcano. On 27 October an explosion produced an ash column to a height of ~ 3.5 km above the volcano. During the evening, ash fell in the towns of Baños, Runtón, and El Salado. Explosions on 31 October also deposited small amounts of ash in Bilbao and Motilone, and on 15 November, incandescence was observed in the crater of the volcano and explosions generated steam columns with moderate ash content that rose ~ 2 km above the crater and drifted S. During 22-27 December, activity at Tungurahua consisted of small-to-moderate explosions, several long- period earthquakes, and episodes of tremor. Emissions of steam, gas, and small amounts of ash rose a maximum of 1.5 km on 22 December.
Increased seismicity and volcanic tremor registered at Tungurahua during early January 2005. There were eleven signals suggesting volcanic emissions and one small explosion. Seismicity then returned to a low level. On 11 January, steam plumes rose ~ 300 m above the volcano and extended WNW, and incandescence was observed emanating from the crater during 12-13 January. On 14 January, a white column of steam-and-gas was observed that reached a height of 500 m above the crater and extended to the NW. A steam- and-gas plume reached a height of 200-300 m above the crater on 16 January, and extended SE.
The Washington Volcanic Ash Advisory Center (VAAC) reported 18 January that an ash plume reached ~ 5.5 km altitude and extended to the E of Tungurahua's summit for ~ 15 km. During 19-24 January 2005, there were several emissions from Tungurahua of steam, gas, and ash. The plumes that were produced rose to a maximum height of ~ 1 km above the volcano and drifted in multiple directions, small amounts of ash falling in the sectors of Agoyán, San Francisco, Runtón, Pondoa, and Baños. Seismicity was at relatively low levels. Ash emission from Tungurahua on the evening of 25 January 2005 deposited a small amount of ash in the sector of Puela; ash was deposited on the volcano's N and W flanks on 26 January. The character of the eruption changed on 30 January to low-energy emissions of predominately steam. This type of activity continued through 31 January.
Volcanic and seismic activity was at low levels at Tungurahua during the period of February-mid July 2005. Low- energy plumes were emitted, and long-period earthquakes were recorded. Ashfall was reported in towns near the volcano, including Puela (SW of the volcano), San Juan de Pillate, Cusúaua, and Quern. On 23 February the daily sulfur-dioxide flux was 1,200 tons/day. On 27 and 28 February, rains generated lahars in the W zone of the volcano into the gorges of Cusúa and Bilbao. A moderate explosion occurred 18 April at 2057 that sent incandescent volcanic blocks rolling down the volcano's flanks. Ash fell S of the city of Ambato. On 20 and 21 April rain generated lahars that traveled down the volcano's W flank near the settlement of Bilbao (8 km W). An emission on 19 May around 1200 produced an ash-and- steam plume to ~ 500 m altitude that drifted N. On 7 June fine ash fell in the Puela sector, ~ 8 km SW of the volcano. On 24 June a narrow plume was identified in multispectal satellite imagery about an hour after an ash eruption was observed by the Instituto Geofisica. The ash plume was at an altitude of ~ 5.5 km and extended 35-45 km W from the summit. On 4 July 2005, low-energy plumes were emitted that rose to a maximum of ~ 5.8 km altitude.
Table 9 gives examples of some seismic statistics for several months during the reporting period from the Instituto Geofísico-Escuela Politécnica Nacional (IG).
| | | | | | |
| --- | --- | --- | --- | --- | --- |
| Month/Year | Long-period | Volcano-tectonic | Emission | Explosions | Hybrid |
| Jan 2004 | 365 | 6 | 217 | 28 | 0 |
| Feb 2004 | 255 | 8 | 147 | 16 | 0 |
| Mar 2004 | 123 | 7 | 123 | 2 | 0 |
| Aug 2004 | 620 | 5 | 142 | 22 | 0 |
| Sep 2004 | 674 | 9 | 119 | 43 | 0 |
| Oct 2004 | 390 | 14 | 168 | 53 | 0 |
| Jan 2005 | 138 | 8 | 92 | 6 | 0 |
| Feb 2005 | 113 | 20 | 29 | 0 | 0 |
| Mar 2005 | 54 | 20 | 1 | 0 | 0 |
Geological Summary. Tungurahua, a steep-sided andesitic-dacitic stratovolcano that towers more than 3 km above its northern base, is one of Ecuador's most active volcanoes. Three major edifices have been sequentially constructed since the mid-Pleistocene over a basement of metamorphic rocks. Tungurahua II was built within the past 14,000 years following the collapse of the initial edifice. Tungurahua II collapsed about 3,000 years ago and produced a large debris-avalanche deposit to the west. The modern glacier-capped stratovolcano (Tungurahua III) was constructed within the landslide scarp. Historical eruptions have all originated from the summit crater, accompanied by strong explosions and sometimes by pyroclastic flows and lava flows that reached populated areas at the volcano's base. Prior to a long-term eruption beginning in 1999 that caused the temporary evacuation of the city of Baños at the foot of the volcano, the last major eruption had occurred from 1916 to 1918, although minor activity continued until 1925.
Information Contacts: Geophysical Institute (IG), Escuela Politécnica Nacional, Apartado 17-01-2759, Quito, Ecuador (URL: http://www.igepn.edu.ec/); Washington Volcanic Ash Advisory Center (VAAC), Satellite Analysis Branch (SAB), NOAA/NESDIS E/SP23, NOAA Science Center Room 401, 5200 Auth Road, Camp Springs, MD 20746, USA (URL: http://www.ospo.noaa.gov/Products/atmosphere/vaac/); Jacques Descloitres, MODIS Rapid Response Team, NASA/GSFC, 8800 Greenbelt Road, Greenbelt, MD 20771, USA (URL: http://earthobservatory.nasa.gov/).