Report on Hunga Tonga-Hunga Ha'apai (Tonga) — February 2009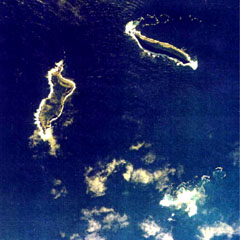 Hunga Tonga-Hunga Ha'apai
Bulletin of the Global Volcanism Network, vol. 34, no. 2 (February 2009)
Managing Editor: Richard Wunderman.

Hunga Tonga-Hunga Ha'apai (Tonga) Eruption from two vents on 17 March 2009 creates new land
Please cite this report as:

Global Volcanism Program, 2009. Report on Hunga Tonga-Hunga Ha'apai (Tonga) (Wunderman, R., ed.). Bulletin of the Global Volcanism Network, 34:2. Smithsonian Institution. https://doi.org/10.5479/si.GVP.BGVN200902-243040
Hunga Tonga-Hunga Ha'apai
Tonga
20.536°S, 175.382°W; summit elev. 114 m
All times are local (unless otherwise noted)
A new eruption from multiple vents on and near Hunga Ha'apai Island began producing ash and steam plumes sometime in the late afternoon of 17 March 2009. The early stage of the eruption was photographed by Steven Gates (figures 1 and 2) at 1804 on 17 March while flying from Vava'u to Tongatapu. Coordinates provided by the Chathams Pacific pilots accurately located the activity as being near the islands of Hunga Tonga and Hunga Ha'apai, about 55 km NNW of Tongatapu Island, where the capital, Nuku'alofa, is located. The pilots had not observed any activity on the way to Vava'u approximately 90 minutes earlier, nor did pilots on previous flights that morning.
Figure 1.

Aerial photograph showing the eruption plume from Hunga Ha'apai island at 1804 on 17 March 2009. The island of Hunga Tonga is the dark linear feature at lower right. Courtesy of Steven Gates.
Figure 2.

Closeup aerial photograph of the Hunga Ha'apai eruption at 1804 on 17 March 2009. Horizontal plumes on the ocean, tephra fallout, and discolored water can be seen. Courtesy of Steven Gates.
According to Matongi Tonga news, the Tonga Defence Services reported the eruption to the Geological Division of the Ministry of Lands on 17 March. Government geologist Kelepi Mafi noted that "sharp tremors" had been recorded by their seismic instruments during the previous three weeks, though the seismicity could not be directly linked to the eruption. Quotes by Mafi indicated that, based on seismicity, the submarine eruption may have started on 16 March. However, initial reports of steam plumes seen on that day were incorrect, as were reports of the eruption being 10 km SW on Tongatapu.
As reported by Agence France Presse (AFP), radio journalist George Lavaka viewed the eruption from a game-fishing boat operated by Lothar Slabon on the afternoon of 18 March. He described an island completely covered in black ash, coconut tree stumps, and dead birds and fish in the surrounding water. Video and photographs taken by passengers on that boat clearly showed a submarine vent offshore to the S and another vent some distance away on the NW part of the island (figure 3). Activity increased during the hour that the boat was present, during which time both vents exhibited strong Surtseyan explosions (figure 4), an eruption type named for Surtsey volcano off the coast of Iceland. As the eruption from the offshore vent became stronger, the plume included larger amounts of steam, produced base surges along the ocean surface, and ejected bombs (figure 5). Fortunately the boat left the area just as the eruption escalated and volcanic bombs began falling around them.
Figure 3.

Photograph of a steam-and-ash plume rising from Hunga Ha'apai Island and a submarine vent to the S erupting black tephra. View is looking NW on 18 March 2009. Photo from unknown photographer on the Sloban boat provided by Dana Stephenson/Getty Images on boston.com.
Figure 4.

Photograph showing dark ash-laden Surtseyan eruption plumes from both Hunga Ha'apai vents. View is looking NNE on 18 March 2009. Photo from unknown photographer on the Sloban boat provided by Dana Stephenson/Getty Images on boston.com.
Figure 5.

Photograph of the offshore Hunga Ha'apai vent during a strong eruptive event on 18 March 2009. Bombs with trailing ash plumes can be seen falling from the eruption cloud, which is producing base surges along the ocean surface. Photo from unknown photographer on the Sloban boat provided by Dana Stephenson/Getty Images on boston.com.
A science team led by Mafi observed the eruption site at Hunga Ha'apai from a boat on 19 March. By that time, as reported by AFP, tephra had filled the gap between the submarine vent, originally about 100 m offshore, and the island, adding hundreds of square meters of land. Residents on Tongatapu reported orange glow from the eruption on the night of 19 March.
Aviation reports. A New Zealand Dominion Post article on 19 March noted that flights were disrupted and rerouted around the activity following warnings from Airways New Zealand and MetService NZ.
The Wellington VAAC issued an aviation notice on 18 March based on ground observations from the Tongatapu airport of a plume rising to an altitude of 7.6 km at 0659 that morning; ash was not seen in satellite data. Later that day, at 1330, a plume seen on MODIS satellite imagery was within 1 km of the vent and moving NE. A similar plume was reported based on MODIS and ground observations to an altitude of 4.5 km at 1600. Airport observers continued to report a plume to 5 km altitude at 1000 on 19 March, and to 4 km at 1700, but with a band of ash extending 2.5 km NE from the volcano to 2.4 km altitude.
D. Tait, a pilot for Air Chatham, noted that at 1700 on 19 March frequent eruptions were ejecting black ash, sometimes to a height of 300 m. The main white eruption plume was rising to about 4 km altitude and drifting ENE, to a distance of almost 500 km as seen in MODIS satellite imagery. He also observed that widespread ash and haze was trapped below an inversion layer at about 2 km altitude. On 20 March, a VAAC report at 1140 indicated a steam plume to 4 km but no visible eruption.
Pilot Tait reported that at 1015 on 21 March the island was covered by weather clouds, the crater was not visible, and there was no vertical plume; haze was again below an inversion layer at 1.5 km altitude. No eruptions were seen during the 15 minutes the island was visible on the return flight around 1250. However, steaming continued, with the plume rising to 1.8 km altitude. A new eruptive episode was reported by Tongatapu airport observers at 1409 on 21 March that sent an ash plume 800 m high.
Geological Summary. The small islands of Hunga Tonga and Hunga Ha'apai cap a large seamount located about 30 km SSE of Falcon Island. The two linear andesitic islands are about 2 km long and represent the western and northern remnants of the rim of a largely submarine caldera lying east and south of the islands. Hunga Tonga reaches an elevation of about 114 m above sea level, and both islands display inward-facing sea cliffs with lava and tephra layers dipping gently away from the submarine caldera. A rocky shoal 3.2 km SE of Hunga Ha'apai and 3 km south of Hunga Tonga marks a historically active vent. Several submarine eruptions have occurred at Hunga Tonga-Hunga Ha'apai since the first historical eruption in 1912. An eruption that began in mid-December 2014 built a new island between the other two large islands.
Information Contacts: Steven Gates, Tradewind Island Sailing, Private Bag 63, Neiafu, Vava'u, Tonga (URL: http://www.manuoku.com/); Wellington Volcanic Ash Advisory Centre (VAAC), Meteorological Service of New Zealand Ltd (MetService), PO Box 722, Wellington, New Zealand (URL: http://www.metservice.com/ vaac/, http://vaac.metservice.com/); The Dominion Post (URL: http://dompost.co.nz/); Matongi Tonga Online, PO Box 958, Nuku'alofa, Tonga (URL: http://www.matangitonga.to/); Agence France Presse (AFP) (URL: http://www.afp.com/); The Boston Globe, Boston, MA, USA (URL: http://www.boston.com/).