Report on Sangay (Ecuador) — February 2022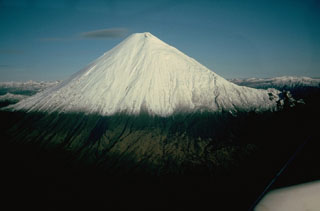 Sangay
Bulletin of the Global Volcanism Network, vol. 47, no. 2 (February 2022)
Managing Editor: Edward Venzke. Edited by A. Elizabeth Crafford.

Sangay (Ecuador) Large explosion on 2 December 2021 with ash plumes to 15 km altitude and new flow on N flank
Please cite this report as:

Global Volcanism Program, 2022. Report on Sangay (Ecuador) (Crafford, A.E., and Venzke, E., eds.). Bulletin of the Global Volcanism Network, 47:2. Smithsonian Institution. https://doi.org/10.5479/si.GVP.BGVN202202-352090
Frequent activity at Ecuador's Sangay has included pyroclastic flows, lava flows, ash plumes, and lahars reported since 1628. The current eruption began in March 2019 and has continued throughout 2021. Ongoing activity from July-December 2021 covered in this report includes explosions with ash plumes, incandescent ejecta, lava flows, and lahars. Information is provided by Ecuador's Instituto Geofísico, Escuela Politécnica Nacional (IG-EPN), and multiple sources of remote data including the Washington Volcanic Ash Advisory Center (VAAC), the Italian MIROVA Volcano HotSpot Detection System, and Sentinel-2 satellite imagery.
Gas and ash emissions rose 500-1,500 m above the summit of Sangay on most days during July-December 2021. Pulses of activity that produced emissions higher than 2 km above the summit occurred at least once almost every month. Ashfall in Chimborazo Province was reported on 14 and 19 July; a plume on the 19th rose to over 10 km altitude. A new vent appeared on the W side of the summit on 24 November, a new lava flow began on the N flank on 2 December, and lava remained intermittently active in the SE flank ravine throughout the period. Steady levels of thermal energy were present in the MIROVA data from July through early December, with a marked increase in frequency at the middle of the month that corresponded with increased observations of incandescence on the N and W flanks (figure 113). A major explosive event on 2 December produced an ash plume that rose to 15.2 km altitude.
Multiple daily VAAC reports during July 2021 indicated frequent ash emissions that rose 100-2,400 m above the summit (5.4-7.7 km altitude) and most often drifted W or SW (figure 114). A larger explosion on 19 July produced a plume that rose to 10.7 km altitude and drifted SE while another part of the plume moved NE at 8.5 km altitude. A few hours later a plume was drifting W at 6.4 km altitude. Ashfall was observed on 14 July in the Guamote and Cebadas sectors from one of the 12 explosions reported that day, and on 19 July in the canton of Guamote in the Chimborazo province. Noises were reported to the W and SW after explosions on 19 and 25 July. Incandescence at the crater accompanied ash emissions on 15 July (figure 115). MODVOLC thermal alerts were recorded on 8, 14, 24, and 31 July. Rains were strong enough to produce lahar signals at the seismic stations on 1-3, 9-13, 16, 18-22, 27, and 29-31 July but no damages were reported.
Gas and ash emissions drifted SW to NW at 500-1,500 m above the summit during most days in August 2021, although activity was more intermittent than during July, with no emissions reported during 15-18 and 26-31 August. The tallest plume reported by IG-EPN rose 2 km above the summit and drifted SW, W, and NW on 21 August, but no ashfall was reported. A pulse of thermal activity on 4 August that was recorded in satellite imagery (figure 116) led IG-EPN to identify a new flow on the SE flank. Incandescence and ash emissions were both visible in webcams on 5 August, confirming that the flow was confined to the upper flank of the volcano. Explosions produced incandescent blocks that rolled down the SE flank ravine overnight on 13-14 and 19-20 August (figure 117). The next night the lava was also visible in the ravine. MODVOLC thermal alerts were issued on 4, 20, 23, and 24 August. Lahar signals were recorded on 2, 11-13, 16-20, 23, and 26 August.
Steam, gas, and ash emissions from the summit continued throughout September 2021, drifting SW, W, or NW on most days. Plumes were usually reported at 600-1,200 m above the summit; they rose as high as 2,000 m on 8 and 20 September. Incandescence was visible at the crater on the morning of 15 September. Overnight on 23-24 September, Strombolian activity at the summit sent incandescent ejecta down the SE flank ravine (figure 118). MODVOLC thermal alerts on 5, 14, 15, 24, 28, and 30 September indicated continued pulses of thermal activity. Heavy rain produced lahar signals at seismic stations on 1-4, 6, 7, 9, and 11-13 September.
A single MODVOLC thermal alert was issued on 1 October; multiple alerts were issued each day on 9, 14, and 18 October. Webcam images of a lava flow near the summit were seen overnight on 3-4 October. Incandescent blocks were visible on the SE flank overnight on 5-6 October. On 10 October the ECU 911 webcam showed an active flow on the SE flank. Sentinel satellite images showed strong thermal anomalies at the summit and on the SE flank on 8, 13, and 18 October (figure 119). Satellite images from 13 October indicated continued slow growth of the ravine on the SE flank. When last measured in March 2021 it was 600 (± 40 m) wide; as of 13 October is was 650 (± 40 m) wide. Overnight on 16-17 October incandescent blocks were seen rolling down the SE flank ravine. The Washington VAAC issued multiple ash advisories each day during October 2021. Plumes were reported rising 500-1,200 m above the summit on most days; although on 13, 18-19 (figure 120), and 30 October gas and ash plumes rose 1,200-1,500 m high from multiple emission events. A narrow plume of steam and ash drifted tens of kilometers WSW from the summit on 28 October and corresponded to an increase in seismic tremor signals, according to IG-EPN. Small lahars were recorded as high-frequency seismic signals during 29-31 October.
A pulse of increased emissions activity on 1 and 2 November 2021 produced plumes that rose higher than 2,000 m above the summit and drifted SW, W, and NW; incandescence was also observed in the webcams at the summit overnight. Ash plumes on most days of the month rose 600-1,200 m above the summit and drifted in multiple directions. Incandescent blocks were observed descending the SE flank ravine overnight on 6-7 November (figure 121). On 8 November trace amounts of ashfall were reported in Guamote and Flores, with moderate ashfall in Pungala and Cebadas. Overnight the ash plumes reached as high as 2,400 m above the summit. Additional pulses of ash emissions that rose as high as 2,000 m above the summit were reported on 12, 14-15, 24, and 28-29 November.
In a special report issued on 24 November IG-EPN noted that there had been an increase in the rate of explosions since the evening of 17 November, reaching an average of two per minute; most of them were small. They also noted that the slight inflation recorded on most flanks since June 2021 had grown more pronounced in recent weeks. Strombolian activity and a lava flow in the SE flank ravine were recorded in the ECU-911 webcam on 24 November. Also, IG-EPN reported a possible new vent on the upper W flank that day. Steam and ash emissions were visible in Sentinel-2 satellite imagery along with a summit thermal anomaly on 27 November. A single MODVOLC thermal alert was recorded on 4 November, and multiple alerts were recorded each day on 15, 17, 22, and 26-28 November. Two lahar signals were measured each day on 12 and 26 November, and one each on 18 and 19 November.
A seismic swarm that began on the afternoon of 1 December 2021 was detected by the SAGA station located 6 km SW of the summit. The frequency of the events increased from 32 per hour to 60 per hour by the following morning. A major explosive event during the early morning of 2 December produced an ash plume that rose to 15.2 km altitude and drifted W according to the Washington VAAC (figure 122). The plume dissipated quickly and was seen 45 km WSW of the summit about an hour later at 6.1 km altitude. The higher part of the plume was moving S and E at 13.7 km altitude and dissipating more slowly. A second emission a few hours later rose to 7 km altitude and drifted NW. There were no reports of ashfall that day. Multiple VAAC reports were issued daily for the remainder of the month; steam, gas, and ash plumes rose 500-1,500 m above the summit and drifted mostly W and SW (figure 123).
A new lava flow on the N flank was first reported after the explosions of 2 December; it was observed in Sentinel-2 satellite imagery on 12 December (figure 124). During the second week of December IG technicians installed five new infrasound sensors and a new high-resolution seismic station in the Domono area, northwest of Macas, 34 km from the summit. Between 15 and 17 December they also installed new ash sampling meters W of the volcano in the Guamote Canton, including the communities of Piscinas de Atillo, Punto Cero-Atillo, Cashapamba, Palmira, and Guamote. Webcam images from overnight on 20-21 December showed incandescent blocks rolling down the SE flank ravine (figure 125).
Members of the volcanic observers network in Macas (in the Morona Santiago Province) reported loud noises from Sangay on 25 December. Seismic data showed a slight increase in the intensity of the explosions. A lava flow was visible in the SE flank ravine overnight on 27-28 December along with incandescence at the crater. Pulses of gas and ash emissions rose to 1,000-1,500 m altitude and drifted NE, NW, S, and SW on both days (figure 126). On 31 December, IG-EPN reported three active emissions from the summit: the lava flow in the SE flank ravine, pyroclastic ejecta at the western vent first observed in late November, and lava flows from a N-flank vent, all resulting in a significant increase in thermal energy. All three were visible in Sentinel-2 satellite imagery taken on 27 December (figure 126). More multiple per day MODVOLC thermal alerts were recorded in December than previous months, confirming the increase in thermal activity witnessed in the webcams. Alerts were issued on 3, 8, 10, 12, 15, 19, 21, 22, 24, 26, 28, and 31 December. Lahar seismic signals were recorded on 14, 16, and 18-19 December. Sulfur dioxide emissions were generally low throughout the period, though increases in activity during December coincided with more frequent plumes of SO2 as measured with satellite instruments (figure 127).
Geological Summary. The isolated Sangay volcano, located east of the Andean crest, is the southernmost of Ecuador's volcanoes and its most active. The steep-sided, glacier-covered, dominantly andesitic volcano grew within the open calderas of two previous edifices which were destroyed by collapse to the east, producing large debris avalanches that reached the Amazonian lowlands. The modern edifice dates back to at least 14,000 years ago. It towers above the tropical jungle on the east side; on the other sides flat plains of ash have been eroded by heavy rains into steep-walled canyons up to 600 m deep. The earliest report of an eruption was in 1628. Almost continuous eruptions were reported from 1728 until 1916, and again from 1934 to the present. The almost constant activity has caused frequent changes to the morphology of the summit crater complex.
Information Contacts: Instituto Geofísico, Escuela Politécnica Nacional (IG-EPN), Casilla 17-01-2759, Quito, Ecuador (URL: http://www.igepn.edu.ec/); Washington Volcanic Ash Advisory Center (VAAC), Satellite Analysis Branch (SAB), NOAA/NESDIS OSPO, NOAA Science Center Room 401, 5200 Auth Rd, Camp Springs, MD 20746, USA (URL: www.ospo.noaa.gov/Products/atmosphere/vaac, archive at: http://www.ssd.noaa.gov/VAAC/archive.html); MIROVA (Middle InfraRed Observation of Volcanic Activity), a collaborative project between the Universities of Turin and Florence (Italy) supported by the Centre for Volcanic Risk of the Italian Civil Protection Department (URL: http://www.mirovaweb.it/); Hawai'i Institute of Geophysics and Planetology (HIGP) - MODVOLC Thermal Alerts System, School of Ocean and Earth Science and Technology (SOEST), Univ. of Hawai'i, 2525 Correa Road, Honolulu, HI 96822, USA (URL: http://modis.higp.hawaii.edu/); Sentinel Hub Playground (URL: https://www.sentinel-hub.com/explore/sentinel-playground); NASA Global Sulfur Dioxide Monitoring Page, Atmospheric Chemistry and Dynamics Laboratory, NASA Goddard Space Flight Center (NASA/GSFC), 8800 Greenbelt Road, Goddard MD 20771, USA (URL: https://so2.gsfc.nasa.gov/).