Global Volcanism Program | Image GVP-12172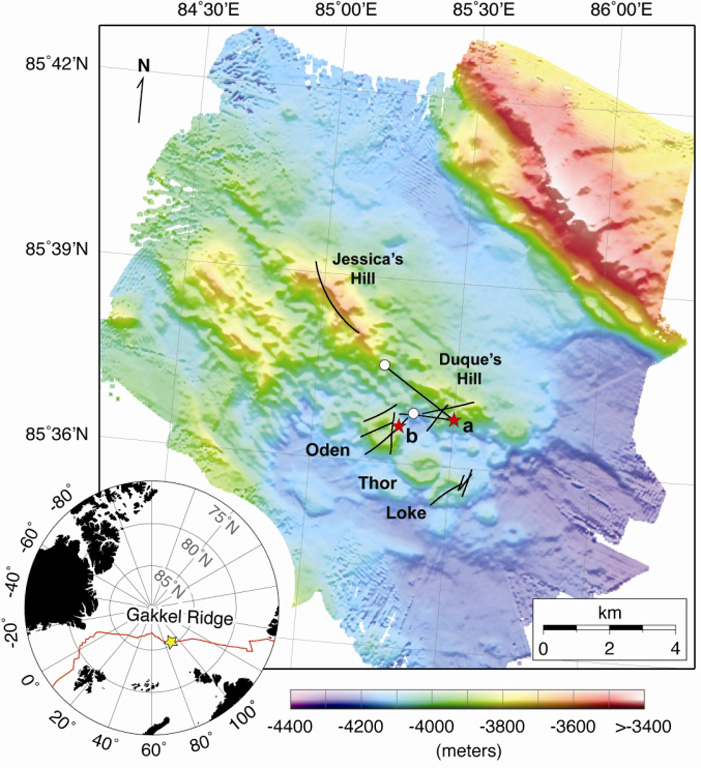 Detailed bathymetry of the East Gakkel Ridge at 85°E in the Arctic Ocean. The inset map shows the location of the 85°E segment (yellow star) along the Gakkel Ridge (red line). The main panel shows illuminated color bathymetry (30-m grid spacing) of the 85°E segment acquired during the AGAVE expedition. The axial valley contains large numbers of distinctive, cratered volcanoes, including a cone on a fault terrace of the northern valley wall. Named features include two volcanic ridges in the center of the axial valley (Jessica's Hill and Duque's Hill), and three cratered volcanoes along a ridge-parallel fissure to the south (Oden, Thor, and Loke). The bathymetry data were plotted with Generic Mapping Tools.

Sohn et al., 2008. Explosive volcanism on the ultraslow-spreading Gakkel ridge, Arctic Ocean. Nature, v. 453, p. 1236-1238.

This image is made available under the Creative Commons BY-NC 4.0 license terms.

East Gakkel Ridge at 85°E