Report on Popocatepetl (Mexico) — May 1998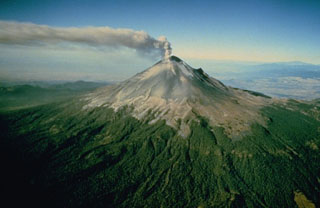 Popocatepetl
Bulletin of the Global Volcanism Network, vol. 23, no. 5 (May 1998)
Managing Editor: Richard Wunderman.

Popocatepetl (Mexico) Moderate activity continues, smoke hinders observation
Please cite this report as:

Global Volcanism Program, 1998. Report on Popocatepetl (Mexico) (Wunderman, R., ed.). Bulletin of the Global Volcanism Network, 23:5. Smithsonian Institution. https://doi.org/10.5479/si.GVP.BGVN199805-341090
Popocatepetl
Mexico
19.023°N, 98.622°W; summit elev. 5393 m
All times are local (unless otherwise noted)
Activity at the start of April showed an increase over that of late March. Small emissions of gas, steam, and light ash along with rockfalls and short harmonic tremors were typical events at Popocatépetl throughout April and May. Smoke from forest fires, mist, and air pollution made direct observation of the volcano difficult for much of both months.
Although not shown as a located A-type event (table 12), on 1 April a gas-and-steam plume was observed rising 500 m above the crater and dispersing to the NE. At 1653 on 2 April seismometers and flow detectors sensed a disturbance that turned out to be a flow of water and debris traveling down NE-flank ravines. The flow was attributed to glacial runoff after days of intensely hot weather. The flow continued for hours and reached points 8 km downstream from the glacier. For 12 hours after this event seismic activity steadily decreased. Only small, short exhalations occurred until 0522 on 3 April when another A-type event occurred.
| | | | | | |
| --- | --- | --- | --- | --- | --- |
| Date | Local Time | Magnitude | Depth (km) | Distance (km) | Direction |
| 30 Mar 1998 | 2122 | 2.2 | 4 | 7.1 | SE |
| 01 Apr 1998 | 0008 | 2.1 | 6.1 | 2 | E |
| 01 Apr 1998 | 1439 | 2.3 | 3.2 | 1.8 | NE |
| 02 Apr 1998 | 0522 | 2.8 | 9 | 2 | N |
| 10 Apr 1998 | 1250 | 2.1 | 5 | 7 | SE |
| 10 Apr 1998 | 1603 | 2.2 | 4.2 | -- | -- |
| 11 Apr 1998 | 1616 | 2.1 | 3.3 | 7 | SE |
| 12 Apr 1998 | 0322 | 2.4 | 6.6 | 8 | SE |
| 17 Apr 1998 | 1525 | 2.5 | 4.9 | 6.5 | SE |
| 23 Apr 1998 | 2116 | 2.1 | 5.2 | 2 | E |
| 04 May 1998 | 1042 | 2 | 6.4 | 0.5 | NE |
| 05 May 1998 | 0256 | 2.3 | 4.9 | 7 | SE |
| 25 May 1998 | 0128 | 2.2 | 6.9 | 6.9 | NW |
| 25 May 1998 | 0202 | 1.8 | 4.2 | -- | -- |
| 28 May 1998 | 0404 | 2.5 | 701 | 10 | N |
Activity remained low to moderate over the next week. At 0425 of 11 April there occurred a small harmonic tremor of 30-second duration. At 1632 the same day a medium-intensity exhalation was followed by 12 minutes of harmonic tremor. Other exhalations occurred that day at 1912 and 2321, and at 0235 the morning of 12 April, all of which were accompanied by small emissions of gas and steam.
At 1107 on 21 April a large exhalation took place that lasted 5 minutes and produced an ash column 4 km high. Although heavy clouds obstructed visibility, a video image of the ash column showed it clearly (figure 25). Incandescent fragments were ejected producing several grass fires on the upper slopes of the volcano. Vibration of windows in the city of Puebla was reported and some ash fell in both Cholula and La Paz. At 1453 the same day a similar exhalation occurred, but was smaller in magnitude and only 1 minute in duration. The last event possibly emitted ash, but this could not be confirmed because of limited visibility. Activity decreased slightly over the next few days, except for some A-type events. Bad weather engulfed the summit in cloud.
Figure 25.

Picture taken at a Popocatépetl video monitor on 21 April showing emitted ash column. Courtesy of CENAPRED.
The broad-band seismometer recently installed at the Canario station (BGVN 22:10), located on the N flank at 4,300 m altitude 2 km from the crater, went out of operation 21 April probably because solar panels were damaged by ejected rocks. This is the second station damaged by volcanic activity this year (the first was the Espinera station, PFM2). Because of the danger of future explosions, an area within 4 km of the crater was deemed of high risk and restricted access.
On 24 April a large exhalation was recorded at 1257. It had a duration of three minutes and probably produced a small ash emission, which because of poor visibility could not be confirmed. At 1031 on 27 April another explosive exhalation occurred. The most intense phase lasted three minutes and was followed by high-frequency tremor that lasted an additional five minutes. It produced a 4-km-high ash column over the summit. Immediately afterwards the volcano returned to previous lower levels of activity. Mild ashfall was expected in the towns located to the E and NE of the volcano.
May began with a slight decrease in activity. Mist and clouds with occasional smoke persisted in obstructing visibility of the mountain. Activity increased slightly on 9 May and included seismic events at 0255 of 2.5 minutes duration, and at 0546 of two minutes duration, possibly due to small emissions of gas, steam, and ash. At 1205 an M 5.2 earthquake occurred on the coast of Guerrero and was recorded by all the stations monitoring the volcano. The event did not affect Popocatépetl.
Isolated low- to medium-intensity exhalations were recorded 10 May. The largest events occurred at 0744 (1.5 minutes duration) and at 0842 (one minute). Both events produced small emissions of gas and steam which rose to 1 km above the crater. Rockfalls were recorded on the N flank of the volcano. At 1322 a moderately large exhalation occurred, followed by four similar but smaller events during the next 5 minutes. Immediately after, one minute of low-frequency harmonic tremor of considerable amplitude was recorded followed by five minutes of high-frequency tremor.
Despite the limited visibility of the volcano at that time, an ash column with gas and steam could be observed rising several kilometers above the crater and was directed by low-speed winds to the NE. The appearance of the column was confirmed by observers viewing from a helicopter in the vicinity of the volcano. These events, due to their explosive nature, ejected solid and incandescent material from the crater over an area of 2-3 km radius. After the episode the volcano returned to previous levels of activity and remained stable for the rest of the day. No reports of damage or ashfall were received.
Beginning at 0426 of 11 May, a high-frequency tremor accompanied a gas-and-steam fumarole which ended with a moderate exhalation at 1505. The afternoon of 12 May at 1755 a column of gas and steam rose 2 km above the summit. The following day, emissions of gas and steam with slight amounts of fine ash generated puffs rising 500-1,000 m above the crater. At 1023 on 15 May three small exhalations mixed with harmonic tremors of low frequency occurred. Other tremor episodes lasting up to five minutes were recorded at 1030 and 1035. At 1043 a medium-intensity exhalation occurred which produced a puff of steam, gas and some light ash, dispersing to the NW. During the rest of the day several similar exhalations were recorded.
On 16 May at 1242 another strong M 5.2 earthquake located on the coast of Guerrero was recorded by all seismic stations at the volcano. This event did not produce any changes in the activity of Popocatépetl. At 1308 a small exhalation occurred accompanied by steam and followed by low-amplitude harmonic tremor lasting 6 minutes. Other short tremor episodes were recorded in the afternoon. During the next few weeks forest fires on the N flank of the volcano close to Tlamacas limited visibility.
The measured SO2 value on 30 March was 5,500 tons/day: on 27 April it was 10,600 tons/day. During the Holocene, Popocatépetl produced both effusive and pyroclastic activity. About 30 eruptions are known since 1345, although early documentation is poor. Most historical eruptions were apparently mild-to-moderate Vulcanian steam and ash emissions, with larger explosive eruptions in 1519 and possibly 1663. Activity in 1920-22 produced intermittent explosive eruptions and a small lava plug in the summit crater. Minor ash clouds were also reported in 1923-24, 1933, 1942-43, and 1947.
Geological Summary. Volcán Popocatépetl, whose name is the Aztec word for smoking mountain, rises 70 km SE of Mexico City to form North America's 2nd-highest volcano. The glacier-clad stratovolcano contains a steep-walled, 400 x 600 m wide crater. The generally symmetrical volcano is modified by the sharp-peaked Ventorrillo on the NW, a remnant of an earlier volcano. At least three previous major cones were destroyed by gravitational failure during the Pleistocene, producing massive debris-avalanche deposits covering broad areas to the south. The modern volcano was constructed south of the late-Pleistocene to Holocene El Fraile cone. Three major Plinian eruptions, the most recent of which took place about 800 CE, have occurred since the mid-Holocene, accompanied by pyroclastic flows and voluminous lahars that swept basins below the volcano. Frequent historical eruptions, first recorded in Aztec codices, have occurred since Pre-Columbian time.
Information Contacts: Servando de la Cruz-Reyna, Roberto Meli, Roberto Quaas, G. Castelan, F. Castillo-Alanis, J.L. Delgollado, F. Galicia, A. Gómez, A.O. González, G. Juarez M., A. Martínez, A. Montalvo, L. Orozco, and E. Ramos, Centro Nacional de Prevencion de Desastres (CENAPRED), Av. Delfin Madrigal 665, Col. Pedregal de Santo Domingo, Coyoacán, CP 04360, México D.F., México.