Report on Ol Doinyo Lengai (Tanzania) — March 2006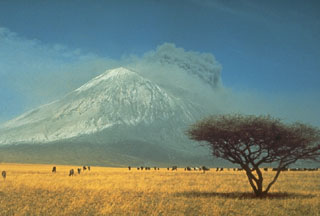 Ol Doinyo Lengai
Bulletin of the Global Volcanism Network, vol. 31, no. 3 (March 2006)
Managing Editor: Richard Wunderman.

Ol Doinyo Lengai (Tanzania) Unusual activity at summit crater during late March and early April 2006
Please cite this report as:

Global Volcanism Program, 2006. Report on Ol Doinyo Lengai (Tanzania) (Wunderman, R., ed.). Bulletin of the Global Volcanism Network, 31:3. Smithsonian Institution. https://doi.org/10.5479/si.GVP.BGVN200603-222120
Ol Doinyo Lengai
Tanzania
2.764°S, 35.914°E; summit elev. 2962 m
All times are local (unless otherwise noted)
Typical activity continued at Ol Doinyo Lengai from December 2005 through mid-March 2006. Unusual activity, including a large plume and significant lava overflows from the summit crater, occurred during late March and early April. Much of the following information was posted on websites maintained by Fred Belton or Chris Weber, or was contained in email from local sources or visitors relayed by Belton or Celia Nyamweru. None of the reports regarding the unusual March-April activity originated from sources close enough to describe the exact nature of the eruption.
Activity during 20 December 2005-13 March 2006. The local Masai guide William reported an eruption from hornito T49B during a visit on 20 December 2005. When David Bygott climbed the volcano on 22 December the crater was inactive. A recent narrow flow of pahoehoe lava from the NW flank of T49B had flowed across the NW crater rim overflow, and was still warm and making cracking noises. A wide pahoehoe-textured lava flow from T56B had mostly turned white and appeared to be several days to a week old.
On 4 January 2006 Bernhard Donth observed lava escaping from T49B; spatter and little flows went in all directions. One bigger lava flow had reached as far as the NW overflow. A report from Christian Mann of a climb on 10 January only noted degassing from T47. A photo taken that day from the summit showed a white and brown crater with no indication of recent activity. However, Belton noted that during the previous weeks lava had apparently filled up the large open vent of T56B and had flowed from there and possibly other locations onto the NE part of the crater floor.
Chris DeVries and a group of other students from McGill University visited during 25-26 February. Many hornitos were intermittently degassing. T58B was spattering a bit, and magma was heard sloshing around. A small ~ 10-m-long flow had erupted from this vent earlier in the day; it was still very black and hot. T57B had a large opening to its NW, but it did not appear that any recent flows had come from this opening. The base of this cone later ruptured, and the lava inside drained out quickly and violently; the flow proceeded to the E overflow.
Christoph Weber arrived with a film team at the crater on 2 February 2006. The tallest hornito (T49B) reached approximately 2,890 m elevation (measured with GPS), ~ 60 m above the crater floor at the NW overflow (figure 87). No recent eruption had occurred at T49B, but strong noisy degassing took place sometimes. Just E of T49B the hornito T56B had convecting lava deep inside and some days-old lava flows stretched from three different vents at T56B to the E overflow. After the major collapse of T56B in 2004, this hornito (at approximately 2,875 m elevation on 2 February) has nearly grown up again to its former shape and height. Also from T58C and the collapsed T58B hornito some days-old lava flows were found on the eastern slopes passing the old and weathered T37, T37B, and T45 cones.
Figure 87.

View of Ol Doinyo Lengai on 6 February 2006, looking NW at the central hornito cluster. Fresh lava flows are black. A person can be seen near the recent lava flow in front of T57B. Courtesy of C. Weber.
The caldera-shaped collapsed T58B had its flat floor at ~ 2,865 m elevation with four active vents inside. Lava convection was close to the surface of T58B and inside the tall T58C. At 1300 on 2 February a sudden increase of activity took place with two lava fountains at T58B lasting only some seconds. At the same time lava spilled from all T58B vents, a T58C flank vent, and a T56B vent. Lava spatter with lava flows inside T58B and up to ~ 150 m towards the E occurred over the following 3 days. On 6 and 7 February, higher activity occurred with lava outflow at T58C. During an observation flight on 13 February, Weber noticed new lava flows from T58B and T56B. Crater rim overflow measurements on 2 February 2006 were unchanged since August 2005 (BGVN 30:10).
Photographs taken by Michael Dalton-Smith from a plane on 13 March 2006 showed many small flows extending in all directions from the central cluster. The flow over the NW rim seemed to be confined to a channel and did not spread out until it was further down the mountain.
Unusual activity starting in late March. David Peterson saw a fairly obvious plume at the top of the mountain (figure 88) on 28 March. A day or two after that he heard reports of lava pouring down the volcano's sides with some residents moving out of Engare Sero as a result. Unconfirmed news reports in The Guardian on 1 April described a scene of "rumbling" noises with lava and ash discharges on 30 March that prompted hundreds to as many as 3,000 local residents to flee the area. Peterson also relayed that his colleague Habibu reported on 1 April that the lava flows had abated. Another friend, Achmed, noted that a river of lava extending from the crater to the base of the volcano was about the "width of a four lane highway" (12 m). An Agence France Presse news report, with quotes from Emmanuel Chausi, a conservation officer with the nearby Ngorongoro Conservation Area Authority (NCAA), claimed that "huge plumes of detritus" were ejected during the nights of both 2 and 3 April, but no lava was reported.
Figure 88.

A photograph, undated, but from the time period of the eruption, shows a white plume from Ol Doinyo Lengai. This is probably what started the rumor of a major eruption. Fred Belton saw a similar cloud on 15 July 2004 when lava vaporized a big area of plants on the E rim. Fred Belton received this photograph, taken from Basecamp Tanzania, on 9 April 2006.
Photos received from Dean Polley, taken 1 April, provide additional information about the eruption (figure 89). Based on these aerial photos, Belton's interpretation is that lava on 30 March must have erupted strongly from at or near the central cluster. A deep channel visible down the flank indicates a flow lasting some hours through a channel deepened by thermal erosion. A crater photo from Matt Jones also taken on 1 April (figure 90) confirmed that there had been recent strong activity from the T56B and T58C hornitos. C. Weber relayed that visitors who climbed the volcano later on (with guide Othman Swalehe ) reported a lava channel 5 m wide and 2.5 m deep, starting from the T58C hornito, following the flow field to the SW and then continuing outside the crater at the W overflow where there was a channel 8 m wide and 3 m deep. The collapsed hornito area at T56B and T58B measured about 30 m N-S and 15 m E-W with an active lava lake inside. The tall hornitos T58C (partly collapsed to the SE), T49B, and T57B were mostly not affected by the collapse, and the W part of T56B remained standing.
Figure 89.

Aerial photograph of Ol Doinyo Lengai looking approximately ESE showing the summit crater and lava overflows, 1 April 2006. Courtesy of Dean Polley.
Figure 90.

Photograph of the Ol Doinyo Lengai crater on 1 April 2006, looking NW at the central hornito cluster. The T58C hornito is completely split, with the south half removed. A significant portion of T56B is also missing. See figure 87 for a comparison with crater morphology on 6 February 2006 and identification of hornitos. Photo by Matt Jones, provided courtesy of F. Belton.
Michael Dalton-Smith flew over on 4 April and saw more recent black flows partially covering the gray flows from 30 March. When Dalton-Smith drove from Seronera to the crater on 4 April, he had a great cloud-free view. Using binoculars it appeared that there was a huge fountain out of one of the hornitos, and all hornitos had black plumes rising from them.
Geological Summary. The symmetrical Ol Doinyo Lengai is the only volcano known to have erupted carbonatite tephras and lavas in historical time. The prominent stratovolcano, known to the Maasai as "The Mountain of God," rises abruptly above the broad plain south of Lake Natron in the Gregory Rift Valley. The cone-building stage ended about 15,000 years ago and was followed by periodic ejection of natrocarbonatitic and nephelinite tephra during the Holocene. Historical eruptions have consisted of smaller tephra ejections and emission of numerous natrocarbonatitic lava flows on the floor of the summit crater and occasionally down the upper flanks. The depth and morphology of the northern crater have changed dramatically during the course of historical eruptions, ranging from steep crater walls about 200 m deep in the mid-20th century to shallow platforms mostly filling the crater. Long-term lava effusion in the summit crater beginning in 1983 had by the turn of the century mostly filled the northern crater; by late 1998 lava had begun overflowing the crater rim.
Information Contacts: Frederick Belton, Developmental Studies Department, PO Box 16, Middle Tennessee State University, Murfreesboro, TN 37132, USA (URL: http://oldoinyolengai.pbworks.com/); Christoph Weber, Volcano Expeditions International, Muehlweg 11, 74199 Untergruppenbach, Germany (URL: http://www.v-e-i.de/); Bernhard Donth, Waldwiese 5, 66123 Saarbruecken, Germany; Celia Nyamweru, Department of Anthropology, St. Lawrence University, Canton, NY 13617, USA; Guardian News, Arusha, Tanzania (URL: http://www.ippmedia.com/); Agence France Presse (URL: http://www.afp.com/).