Report on Turrialba (Costa Rica) — August 2007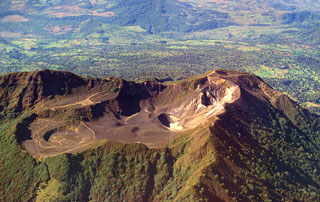 Turrialba
Bulletin of the Global Volcanism Network, vol. 32, no. 8 (August 2007)
Managing Editor: Richard Wunderman.

Turrialba (Costa Rica) Increased degassing and opening of fissures
Please cite this report as:

Global Volcanism Program, 2007. Report on Turrialba (Costa Rica) (Wunderman, R., ed.). Bulletin of the Global Volcanism Network, 32:8. Smithsonian Institution. https://doi.org/10.5479/si.GVP.BGVN200708-345070
Turrialba
Costa Rica
10.025°N, 83.767°W; summit elev. 3340 m
All times are local (unless otherwise noted)
Non-eruptive fumarolic activity was reported at Turrialba through August 2001 (BGVN 26:11). This report covers the time interval January 2002 to mid-2007. Central and W craters were both scenes of fumarolic activity, and reports mentioned generally modest seismicity.
No eruption occurred, although fumarolic and seismic activity remained elevated and some other noteworthy changes also took place. Figure 6 presents a summary of seismicity measured during 1990-2006. Seismicity increased beginning in 1996, reached a peak in 2001 and although it remained elevated, it decreased somewhat from the peak through 2006. In general seismic activity was modest and of short duration with numerous micro-earthquakes of amplitude smaller than 15 mm, and frequencies between 2.1 and 3.0 Hertz (Hz).
Figure 6.

The numbers of earthquakes recorded at Turrialba during 1990 through 2006. Courtesy of Vilma Barboza (OVSICORI-UNA ).
Fumarolic activity of 2002-2006. A summary of fumarolic activity at the central crater during the period 2002 through 2006 indicated the S, SW, NW, and N walls were collecting sulfur as a product of gas emissions. Monthly vapor temperatures at the central crater ranged from 87 to 91°C. In March 2006, a pair of cracks continued to be visible in the central crater's S, SE, and SW walls. By August 2006, a pair of cracks in the central crater were particularly significant. Visiting scientists noted that during August 2006, localized vegetation in and around the summit area had been heavily impacted by gases. Areas not affected by increased fumarolic activity in June 2005 had been burned, including a tree belt on the NW outer flank. Below the tree belt, farmers reported an intensification of gas odors. The shapes of the burned areas reflected prevailing wind directions.
From 2002 through 2006, Turrialba's W crater displayed fumarolic activity in the N, NE, W, NW, and SW sides with low levels of emission and gas temperatures remaining consistent from 88 to 93°C . New points of sulfur deposition were noted throughout the period.
An interval of increased seismicity (a pulse) recorded by station VTU located 0.5 km NE of the active crater occurred during 9 July to 14 September 2003. Through December 2003, the emissions continued to increase in the main crater, gradually generating gas columns that were carried W. Observers noted that the vegetation of the SW wall and W of the central crater continued to deteriorate, as well as effects such as heating of the ground, salt deposition at the surface, and escaping gases.
In June 2005, a significant increase in fumarolic gas emission was noted by OVISCORI-UNA and they also indicated changes in gases venting at the W crater. Chemical analysis indicated carbon dioxide gas had decreased and sulfur dioxide had increased, with the result that bushy species and minor plants that managed to survive in the open summit area (inner walls) became completely burned (figure 7). In the external walls to the N, NW, and W, the gases killed the vegetation.
Figure 7.

Increased degassing and resultant burned vegetation around Turrialba's W crater, as illustrated in this photograph from June 2005. Courtesy Eliécer Duarte, OVISCORI-UNA.
A 2006 report noted that bushy species and minor plants that had previously managed to survive in the open summit area (inner walls) had by August 2006 appeared completely burned (figure 8). The tree belt on the NW outer flanks (reported in 2005 as partially burned) contained a significant percentage of dead birch (Alnus acuminata). The belt, ~ 200 x 900 m in area, included species taller than 25 m, and was visible from the lower inhabited farms where residents reported increasingly potent gas odors. The shape and location of the belt correlated with the seasonal prevailing wind directions.
Figure 8.

Aerial photograph depicting vegetation impacts at Turrialba and to its W, emphasizing zones affected by increased gas emissions from June 2005 through August 2006. Spanish labels translate as follows: 1) Coyote habitat, 2) Inhabited farms, 3) Area of partial deforestation, 4) Area of totally killed vegetation, 5) W crater, and 6) Central crater. Courtesy E. Duarte, OVISCORI-UNA.
Behavior during January-August 2007. At the end of February 2007, a flight over Turrialba's summit revealed significant growth in the area of burned vegetation. On that day, dwarf and tall trees looked yellowish due to sustained degassing from the W crater.
On 21 April, observers measured the temperatures of fumaroles emitting steam at ~ 40°C as far as 1.5 km SW of the summit, a spot coinciding with the well known, ENE-trending Ariete fault. Two larger fumaroles were reported on 2 May located 200 m SW from the first one along the same fault. This site released significant vapor plumes (~ 90°C) that rose above the thick forest.
During June and July 2007, enhanced fumarolic activity was accompanied by new fractures at the summit. The fumaroles spread over a larger area and their temperatures increased to ~ 90°C. Micro-seismicity also grew.
The main fumarole at the bottom of W crater reached 138°C producing a distinctive sound similar to a high pressure valve; this sound could be heard up to ~ 500 m away. These fumaroles had melted sulfur, a phenomenon previously not seen in OVISCORI's more than 25 years continuous monitoring. Sulfur condensate colored most of the inner crater walls with a fine yellowish film.
Besides the multiple cracks associated with the expansion of the fumarolic areas around the W crater, two new ones appeared. Such cracks (longer than 100 m) oriented radially from the volcano's W and NW borders suggested a significant degree of summit instability. A wide fumarolic field between these two fractures along with the large number of vapor and gas spots on the outer walls also reflected considerable permeability in that area (figure 9).
Figure 9.

The three fumarolic fields and their associated cracks on Turrialba's NW outer wall, as seen 10 August 2007. Fumaroles are indicated by patten of white lines; cracks ("grietas") indicated by rows of dots. From left to right, the three fields are associated with cracks aligned approximately NW-SE, W-E, and S-N. The latter site contains two N-trending cracks adjacent new fumaroles. Courtesy OVISCORI-UNA.
The effect of gases on the surrounding vegetation (in a 4-km radius) expanded to areas previously protected from damage by prevailing winds (figures 10-11). Acute chemical burning of important patches of natural forest had occurred. Vegetation to the NW, W, and SW appeared yellowish to dark brown (figure 10). By mid-2007 some of the effects had reached potato fields and dairy pastures.
Figure 10.

Acute effects of gases on vegetation are easily visible on Turrialba's steep NW outer wall (25 July 2007). Burns on leaf tissue diminish with distance from the source. Zones of dead climbing vines are visible at closest range in the photo's lower right corner. Courtesy OVISCORI-UNA.
Figure 11.

Despite the rainy season at Turrialba, the impact of volcanic gases on both exotic and native vegetation increased during June and July 2007. This 27 July 2007 photo identifies three zones of chemical burning, efectos agudo (acute effects), efectos intermedios (intermediate effects), and efectos menores (minor effects). Courtesy E. Duarte, OVISCORI-UNA.
On 5 September 2007, OVSICORI-UNA visited Turrialba's outer NW wall to document the gas damage to vegetation in the area from the crater to the seismic station PICA, a distance of 2.5 km. The observers found three bands of severe damage: across an upslope area, a forested zone, and dairy-farm fields.
The upslope band contained a smaller, dense zone of sparse, dwarfed, woody bushes abutting the forest in a fine loose soil in steep terrain. Plants here were very dry and showed a surface layer of white-yellowish material. This effect was most intense within 100 m of the crater, but still partly visible up to 400 m away in patches. A second section with very dense growth was dead.
The mid-slope band through primary forest contained several tree species, including Jaúl and oak. Although all the trees in portions of this band had apparently died, they did so episodically with varying species seemingly more or less resistant to volcanic gases. The upper parts of the trees showed the greatest visible changes. Among the other plant species killed was a climbing vine that where killed turned an intense coffee color.
The topographically lowest band, consisting of pastures with occasional trees, had burned completely over a zone 400 m from the lower line of the forest, leaving grasses a straw-yellow color, and sufficiently brittle to be easily broken by contact. Gasses had also strongly corroded relatively new barbed wire in the ESE sector, and in lower parts of this zone they reacted with fixtures on buildings and damaged gardens.
The August 2007 OVSICORI-UNA report described ongoing fumarolic activity at Turrialba. At the Central and W craters, the respective maximum temperatures were 91°C and 176°C (up from 138°C during late July). Deposition at the fumaroles included sulfur and sulfurous sublimates, in some cases draping walls and forming minor flows up to 2 m from the point of emission. Small landslides were apparent on many sides of the W crater's walls, and these too were places where sulfur or sulfurous sublimates were seen. One of two major fracture directions trended SW; it was visible as a crack 100 m in length and underwent a maximum opening of 1 to 3 cm between 28 July and 16 August.
Geological Summary. Turrialba, the easternmost of Costa Rica's Holocene volcanoes, is a large vegetated basaltic-to-dacitic stratovolcano located across a broad saddle NE of Irazú volcano overlooking the city of Cartago. The massive edifice covers an area of 500 km2. Three well-defined craters occur at the upper SW end of a broad 800 x 2200 m summit depression that is breached to the NE. Most activity originated from the summit vent complex, but two pyroclastic cones are located on the SW flank. Five major explosive eruptions have occurred during the past 3500 years. A series of explosive eruptions during the 19th century were sometimes accompanied by pyroclastic flows. Fumarolic activity continues at the central and SW summit craters.
Information Contacts: Eliécer Duarte, Erick Fernández, and Vilma Barboza, Observatorio Vulcanológico y Sismológico de Costa Rica, Universidad Nacional (OVSICORI-UNA), Apdo. 2346-3000, Heredia, Costa Rica (URL: http://www.ovsicori.una.ac.cr/); Francois Robichaud, Université de Sherbrooke, 2500 boul. de l'Université, Sherbrooke, Québec J1K 2R1, Canada.