Report on Lokon-Empung (Indonesia) — March 2013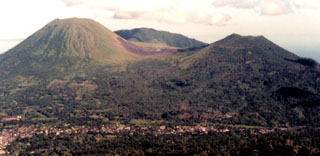 Lokon-Empung
Bulletin of the Global Volcanism Network, vol. 38, no. 3 (March 2013)
Managing Editor: Richard Wunderman.

Lokon-Empung (Indonesia) Eruptions continue into early 2013
Please cite this report as:

Global Volcanism Program, 2013. Report on Lokon-Empung (Indonesia) (Wunderman, R., ed.). Bulletin of the Global Volcanism Network, 38:3. Smithsonian Institution. https://doi.org/10.5479/si.GVP.BGVN201303-266100
Lokon-Empung
Indonesia
1.358°N, 124.792°E; summit elev. 1580 m
All times are local (unless otherwise noted)
This report discusses ash-bearing eruptions seen during the reporting interval, 15 September 2012 to April 2013. As described in our 2012 report (BGVN 37:05) the twin volcanoes of Lokon-Empung have remained restless since 2008, typically with small eruptions amid seismic unrest. Recent activity is based on summaries that have been posted by the Center of Volcanology and Geological Hazard Mitigation (CVGHM, also known as Pusat Vulkanologi dan Mitigosi Bencana Geologi-PVMBG). The active crater is referred to as Tompaluan, a vent that resides in the saddle between the peaks of Lokon and Empung (figure 12). An estimated 120,000 people live within 10 km of the volcano. Lokon-Empung lies 20 km S of Manado, the second largest city in Sulawesi (2010 pop. 2.27 million), a metropolis served by the Sam Ratulangi International Airport that closed for four days during Lokon's 1991 eruption (see figures 9 and 10 in BGVN 37:05). In April 2012, CVGHM raised the hazard Alert Level to 4 (on a scale of 1-4).
Figure 12.

Lokon-Empung volcano showing the Tompaluan vent between the two principal volcano peaks. Photo by Agus Solihin, 1998 (Volcanological Survey of Indonesia).
According to the Darwin Volcanic Ash Advisory Center (VAAC), ground based observers reported that on 15 September (2012) an ash plume from Lokon-Empung rose to an altitude of ~3 km. Satellite imagery showed the ash plume drifting 185 km SE. Another ash plume was reported on 21 September, rising to an altitude of ~3 km; however, in this case an ash plume was not identified in satellite imagery.
According to the Darwin VAAC, CVGHM reported that on 6 October an ash plume from Lokon Empung rose to an altitude of ~3.7 km; the plume altitude was determined by wind data. A thermal anomaly was also detected in satellite imagery on 6 October.
Several news sources (Examiner.com, Jakarta Globe, XINMSN News (Singapore), Jakarta Post) were amalgamated to describe the October activity. According to a news article, an eruption on 7 October 2012 ejected incandescent tephra as high as 350 m above the crater and generated an ash plume that rose ~1.5 km. The article also noted that Lokon Empung had erupted 41 times in September and 3 times on 5 October.
Government volcanologist Farid Bina reported from the volcano's monitoring post in North Sulawesi province, "The eruption on 7 October was the seventh biggest eruption since mid-September". Thunderous sounds were heard nearly 6 km away. The National Agency for Disaster Management (BNPB) said the eruption ejected debris 350 m high and produced an ash plume at least 1.5 km high that drifted NE. It wasn't clear how high the ascending ash actually reached because the mountain was engulfed in ash and heavy rain fell around its cloud covered crater. Bina said that there were no casualties or damages. The head of North Sulawesi Disaster Mitigation Agency (BPBD), Hoyke Makarawung, said that the amount of ashfall blanketing the affected areas was insignificant. BPBD reminded residents about the danger of respiratory ailments, urging those in ash-prone areas to wear masks. A 2.5-km exclusion zone around the volcano continued to be enforced during this heightened activity.
Figure 13 shows Lokon-Empung erupting on 8 October 2012. The plume rises from Tompaluan, the active vent at Lokon which lies in the saddle between the two peaks. The ash column mixed with atmospheric clouds, rising to an uncertain altitude.
Figure 13.

Lokon-Empung eruption seen 8 October 2012. Courtesy of the

Reuters.com

and

Guardian.cu.uk

.
Based on a Significant Meteorological Notice (SIGMET), the Darwin VAAC reported that on 11 November an ash plume from Lokon Empung rose to an altitude of ~1.5 km. The VAAC again reported that on 28 November, an eruption from Lokon Empung produced an ash plume that rose to an altitude of ~4.9 km; the plume was not however detected in satellite imagery.
On 6 December, Lokon emitted a billowing ash plume (figure 14) that produced ash that fell mostly on the SE flank. Milder activity resumed on 8 and 9 December as shown in figures 15 and 16. December's second small eruption took place on 10 December.
Figure 14.

Two views of the ash plume emitted at Lokon on 6 December 2012. Courtesy of

Photovolcanica.com

.
Figure 15.

The Tompaluam vent at Lokon-Empung viewed at night on 8 December 2012. Courtesy of

welt.da

.
Figure 16.

Lokon degassing on 9 December with red and orange glow reflecting of a blowing plume; and a small emission on 10 December. Courtesy of

Photovolcanica.com

.
The eruptions seen on 6 and 10 December were typical of Lokon's recent behavior. They involved a succession of overlapping explosions resulting in sustained ash emission and the production of an ash plume. According to Darwin VAAC, these two eruptions produced ash clouds reaching ~3.4 and~ 4.3 km in altitude, respectively.
According to CVGHM there were no reports of casualties or damages during the December 2012 eruptions. Enlarging the current exclusion zone by specifying a new radius of larger size would cut the main road connecting the towns of Manado and Tomohon and thus burden a much larger population. Consequently, the Alert Level was held at "3" (out of 4) that has been in effect since July 2011. Immediate precursors to eruptions at Lokon are typically small and of short duration (minutes to hours), and eruptions may occur with very little additional warning.
In January (2013), based on ground reports, the Darwin VAAC reported ash plumes from Lokon-Empung rose to an altitude of ~2.4 km during the period 2-8 January, that report was not however confirmed by satellite imagery. The VAAC again issued a special Notice to Airmen (NOTAM) for volcanic ash during 15-16 January, again based on reports from CVGHM and the Aviation Volcanic Information site (ASHTAM - www.ashtam.co.uk). The ash plumes reportedly rose to altitudes of ~3.7 4.5 km, but satellite imagery did not confirm the ash reports.
According to news articles, Lokon Empung erupted twice on 31 January, producing an ash plume that rose 800 m above the crater after the first eruption. Seismicity had increased the day before. In another article the head of the Lokon observation post reported that eruptions from Lokon occurred daily, and specifically that nine eruptions had occurred on 2 February. The CVGHM reported that a significant explosion occurred at Lokon on 3 February which produced an ash plume which rose ~3-4 km and which drifted S and SW, but the ash plume was not detected in satellite imagery.
CVGHM observers at the Kakaskasen Volcano Observatory (KKVO) in North Sulawesi, Indonesia reported increased seismic unrest on 9 February. The character of the seismicity suggested to CVGHM that a magmatic intrusion was occurring. Lokon did erupt on 12 February. Seismicity remained elevated at Lokon and small explosions have been occurred frequently.
On 20 March, the Jakarta Post reported a new eruption at Lokon which spewed a ~2 km m high dark brown and black ash cloud from the Tompaluan crater, easily visible from Manado, the regional capital to the NE, and was heard up to 6 km distance. Farid Ruskanda Bina, head of Mount Lokon and Mount Mahawu observation post at the Bandung Geology Agency's volcanology and geological disaster mitigation center (PVMBG) reported "There was an increase in volcanic tremors which culminated in an eruption" (Antara News). Warno, an official at the observation post, added that the increases in Mount Lokon's volcanic tremors were not very significant. The frequency of the volcano's eruptions has continued to decline from previous eruptions of two to three times a week.
A series of 3 moderately large explosions occurred on 25 March that was followed by minor ash emissions. Mount Lokon erupted again from the Tompaluan crater on 26 March, again with ash plumes rising up to ~2 km above the vent. Residents heard a loud boom after the eruption. Indonesia's National and Local Board for Disaster Management and Volcanology agency warned people not to go within 2.5 km of the volcano; authorities held the situation at Alert Level 3 but, however have not advised residents to evacuate the area. There were no reports of casualties, but three villages in the area, Dalian, Wadena and Walloon were covered in ash from the eruption.
On 2 April, seismicity at Lokon increased. Based on both CVGHM and ground reports, the Darwin VAAC reported that on 3 April an eruption from Lokon Empung produced an ash plume that rose to altitudes of ~3 3.4 km and drifted SW. New explosions occurred on 4 April. Volcanic ash plumes reached 700 m above the crater and were blown to the S. Another explosion occurred on 8 April. A relatively large ash plume rose about 3 km above the crater to an altitude of ~4.5 km and drifted SW. The eruption was heard up to 6 km away. The volcano observatory recorded that the eruption was preceded by a strong increase in seismicity. After the main eruption, the volcano continued to erupt ash. Based on both web-camera views and ground reports, the Darwin VAAC reported that on 11 April an ash plume from Lokon rose to an altitude of ~4.6 km and drifted SW; but the ash plume was not confirmed by satellite imagery.
Another relatively large eruption occurred on 14 April. The explosion produced an ash plume ~4 km high, and strong vibrations were felt up to 5 km from the volcano.
KKVO is monitoring the activity closely using equipment for a volcano hazard mitigation project in Indonesia.
Geological Summary. The Lokong-Empung volcanic complex, rising above the plain of Tondano in North Sulawesi, includes four peaks and an active crater. Lokon, the highest peak, has a flat craterless top. The morphologically younger Empung cone 2 km NE has a 400-m-wide, 150-m-deep crater that erupted last in the 18th century. A ridge extending 3 km WNW from Lokon includes the Tatawiran and Tetempangan peaks. All eruptions since 1829 have originated from Tompaluan, a 150 x 250 m crater in the saddle between Lokon and Empung. These eruptions have primarily produced small-to-moderate ash plumes that sometimes damaged croplands and houses, but lava-dome growth and pyroclastic flows have also occurred.
Information Contacts: Center of Volcanology and Geological Hazard Mitigation (CVGHM), Jalan Diponegoro 5+7, Bandung 40122, Indonesia (URL: http://www.vsi.esdm.go.id/); Darwin Volcanic Ash Advisory Centre (VAAC), Bureau of Meteorology, Northern Territory Regional Office, PO Box 40050, Casuarina, NT 0811, Australia (URL: http://www.bom.gov.au/info/vaac/); The Jakarta Post (URL: http://www.thejakartapost.com/); Jakarta Globe (URL: http://jakartaglobe.id/); Kompas.com (URL: http://www.kompas.com/); Straits Times (URL: http://www.straitstimes.com); ITN News (URL: http://www.itn.co.uk/); Volcano Discovery (URL: https://www.volcanodiscovery.com/); Activolcans, VSI (webcam); Geoforum; Xinhua; NewKerala.