Report on Nyamulagira (DR Congo) — November 2017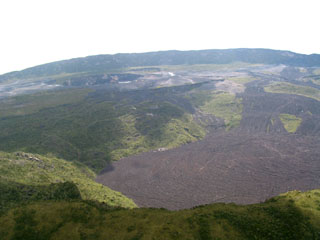 Nyamulagira
Bulletin of the Global Volcanism Network, vol. 42, no. 11 (November 2017)
Managing Editor: Edward Venzke. Edited by A. Elizabeth Crafford.

Nyamulagira (DR Congo) Thermal activity decreases and ends in May 2017
Please cite this report as:

Global Volcanism Program, 2017. Report on Nyamulagira (DR Congo) (Crafford, A.E., and Venzke, E., eds.). Bulletin of the Global Volcanism Network, 42:11. Smithsonian Institution. https://doi.org/10.5479/si.GVP.BGVN201711-223020
Nyamulagira
DR Congo
1.408°S, 29.2°E; summit elev. 3058 m
All times are local (unless otherwise noted)
The Virunga Volcanic Province (VVP) in the Democratic Republic of the Congo is part of the western branch of the East African Rift System. Nyamuragira (or Nyamulagira), a high-potassium basaltic shield volcano on the W edge of VVP, includes a lava field that covers over 1,100 km2 and contains more than 100 flank cones in addition to a large central crater (see figure 47, BGVN 40:01). A large lava lake that had been active for many years emptied from the central crater in 1938. Numerous flank eruptions have been observed since that time, the most recent during November 2011-March 2012 on the NE flank. This was followed by a period of degassing with SO2-rich plumes, but no observed thermal activity, from April 2012 through April 2014. Lava fountains at the central crater in July 2014 signaled the return of a lava lake, which was confirmed in November 2014. The lake lasted through April 2016 when its thermal signal abruptly disappeared (see figure 55, BGVN 42:06).
Thermal activity suggesting reappearance of the lava lake began again in early November 2016, and strengthened in both frequency and magnitude into early January 2017, continuing with a strong signal through April 2017 before tapering off during May 2017. No further activity was reported through November 2017. Ground-based observations are scarce due to the unstable political climate, but occasional information is available from the Observatoire Volcanologique de Goma (OVG), MONUSCO (the United Nations Organization working in the area), geoscientists who study Nyamuragira, and travelers who visit the site. The most consistent data comes from satellite: thermal data from the MODIS instrument processed by the MODVOLC and MIROVA systems, SO2 data from the AURA instrument on NASA's OMI satellite, and NASA Earth Observatory images from a variety of satellites.
Thermal MODIS data indicated that a renewed period of activity began in late November 2016 after a period of quiescence since mid-May 2016. The first MODVOLC alert pixels appeared on 27 November. They were intermittent during December, but increased significantly during January-April 2017, with 30-50 alert pixels each month. They stopped abruptly on 2 May 2017. The MIROVA thermal anomaly graph shows a similar pattern of increasing thermal values from January through April 2017, with both the frequency and intensity tapering off during May 2017 (figure 62). No thermal anomalies were reported within 5 km of the summit from June through November 2017.
Figure 62.

Thermal anomalies at Nyamuragira for the year ending on 27 November 2017 show a pattern of increasing frequency and intensity from January through April, with values tapering off during May, and no further heat flow activity within 5 km of the summit after the last week of May 2017. Courtesy of MIROVA.
During the period from December 2016 to April 2017 thermal anomalies were relatively high, but there were no reported SO2 anomalies from the OMI satellite instrument. This is in contrast with the period from April 2014-April 2016 when both SO2 values and thermal anomaly values were high. Very little ground-based data is available to confirm the eruptive activity of 2017. A photograph from an Instagram user of an image reported as Nyamuragira on 26 January 2017 shows the lava lake at the bottom of the summit crater (figure 63). Bubbling lava from the crater was photographed by Charley Kasereka on 11 March 2017 (see figure 59, BGVN 42:06). An image captured in May 2017 shows steam at the summit crater and lava flows around the caldera, with Nyiragongo in the background (figure 64). A photograph posted 16 September 2017 shows volcanologist Dario Tedesco on the crater rim surrounded by plumes of steam (figure 65).
Figure 63.

Photo of the active lava lake in the summit crater of Nyamuragira on 26 January 2017. Courtesy of Tim Best Direct (posted on Instagram).
Figure 64.

Sunset at Nyamuragira on 21 May 2017 appeared to show fresh steaming lava in the area between the pit crater and the caldera rim, with a possible new overflow of the rim in the foreground. The image is looking SE and shows the larger Nyiragongo with a steam plume rising from the summit crater in the background. Courtesy of Tropic Air Kenya (posted on Instagram).
Figure 65.

Thick steam plumes rise from the crater of Nyamuragira as volcanologist Dario Tedesco collects samples in this photo posted on 18 September 2017. Courtesy of Vincent Tremeau (posted on Instagram).
Geological Summary. Africa's most active volcano, Nyamulagira (also known as Nyamuragira), is a massive high-potassium basaltic shield about 25 km N of Lake Kivu and 13 km NNW of the steep-sided Nyiragongo volcano. The summit is truncated by a small 2 x 2.3 km caldera that has walls up to about 100 m high. Documented eruptions have occurred within the summit caldera, as well as from the numerous flank fissures and cinder cones. A lava lake in the summit crater, active since at least 1921, drained in 1938, at the time of a major flank eruption. Recent lava flows extend down the flanks more than 30 km from the summit as far as Lake Kivu; extensive lava flows from this volcano have covered 1,500 km2 of the western branch of the East African Rift.
Information Contacts: MIROVA (Middle InfraRed Observation of Volcanic Activity), a collaborative project between the Universities of Turin and Florence (Italy) supported by the Centre for Volcanic Risk of the Italian Civil Protection Department (URL: http://www.mirovaweb.it/); Hawai'i Institute of Geophysics and Planetology (HIGP), MODVOLC Thermal Alerts System, School of Ocean and Earth Science and Technology (SOEST), Univ. of Hawai'i, 2525 Correa Road, Honolulu, HI 96822, USA (URL: http://modis.higp.hawaii.edu/); Observatoire Volcanologique de Goma (OVG), Goma, North Kivu, DR Congo (URL: https://www.facebook.com/Observatoire-Volcanologique-de-Goma-OVG-180016145663568/); Virunga Volcanoes, managed by a Belgian-Luxembourgian (BeLux) scientific consortium mainly coordinated by the Royal Museum for Central Africa, the European Center for Geodynamics and Seismology and the National Museum of Natural History of Luxembourg (URL: http://www.virunga-volcanoes.org/); Vincent Tremeau, Instagram user vtremeau (URL: https://www.instagram.com/p/BZMGqX5Bhwl/); Charly Kasereka, Instagram user charlykasereka (URL: https://www.instagram.com/charlykasereka/); Tropic Air Kenya, Instagram user tropicairkenya (URL: https://www.instagram.com/p/BUXbNzjlh4Q/); Tim Best Direct, Instagram user timbestdirect (URL: https://www.instagram.com/p/BPvUgL9BfaX/).