Report on Reventador (Ecuador) — May 2018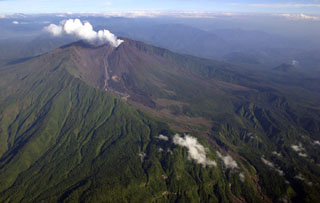 Reventador
Bulletin of the Global Volcanism Network, vol. 43, no. 5 (May 2018)
Managing Editor: Edward Venzke. Edited by A. Elizabeth Crafford.

Reventador (Ecuador) Near-daily explosions produce 1-km-high ash plumes and incandescent blocks on all flanks, October 2017-March 2018.
Please cite this report as:

Global Volcanism Program, 2018. Report on Reventador (Ecuador) (Crafford, A.E., and Venzke, E., eds.). Bulletin of the Global Volcanism Network, 43:5. Smithsonian Institution. https://doi.org/10.5479/si.GVP.BGVN201805-352010
Historical records of eruptions at Ecuador's Volcán El Reventador date back to 1541 and include numerous lava flows and explosive events (figure 74). The largest historical eruption took place in November 2002 and generated a 17-km-high eruption cloud, pyroclastic flows that traveled 8 km, and several lava flows. Eruptive activity has been continuous since 2008. Persistent ash emissions and incandescent block avalanches characterized activity during January-September 2017 with large pyroclastic and lava flows during June and August (BGVN 43:01). Explosions that produced ash plumes and incandescent blocks continued throughout October 2017-March 2018. Information is provided primarily by the Instituto Geofisico-Escuela Politecnicia Nacional (IG-EPN) of Ecuador, the Washington Volcanic Ash Advisory Center (VAAC), and also from satellite-based MODIS infrared data.
Persistent, near-daily ash emissions were typical for Reventador during October 2017-March 2018 (figure 75). In general, the plumes drifted W and NW over sparsely populated nearby areas, but occasional wind-direction changes resulted in ashfall in larger communities within 30 km to the S and SW. The plume heights were commonly 1,000 m above the summit, with the highest plume rising 5 km (to 8.5 km altitude) in October. Most days that the summit and slopes were not obscured by weather clouds, there were observations of incandescent blocks falling at least 300-500 m down the flanks. Larger explosions generated Strombolian fountains and incandescent blocks that traveled 800 m down the flanks every week, even farther on occasion (figure 76). Heavy rains caused one lahar in late November; no damage was reported. Small pyroclastic flows on the flanks were observed once or twice each month (figure 77). The lava flows of June and August 2017 continued to cool on the flanks (figure 78). Thermal activity was somewhat higher during October 2017 with 19 MODVOLC thermal alerts issued, but it remained constant throughout the rest of the period with 8-11 alerts each month. The MIROVA radiative power data showed a similar pattern of moderate, ongoing activity during this time.
Activity during October-December 2017. The Washington VAAC issued ash advisories every day but one during October 2017. IGEPN reported near-daily emissions of ash, with plumes rising over 1,000 m many days of the month and rising to 500-800 m the other days. Plume drift directions were generally W or NW. Incandescence at the summit crater was visible on most nights, and incandescent block avalanches were seen rolling 400-800 m down the flanks during 15 nights of the month. Explosive activity intensified for several days near the end of the month (figure 79). A possible pyroclastic flow traveled down the SE flank in the morning of 24 October.
IGEPN scientists in the field during 23-25 October 2017 noted a high level of explosive activity with loud noises and vibrations felt in the vicinity of Hostería Reventador, about 7.2 km SE of the volcano. Thermal imaging data gathered during their trip indicated that the maximum temperatures of the explosions were over 500°C and that the lava flows of June and August were much cooler with temperatures ranging between 100 and 150°C (figure 80). A dense ash plume rose to more than 2,800 m above the summit and drifted N and E on 25 October (figure 81).
The Washington VAAC reported numerous ash emissions during 24-26 October 2017 at altitudes of 5.8-6.1 km, drifting N and NE from the summit about 35 km. IGEPN reported continuing ash emissions beginning on 27 October that lasted for several days, including observations that day of a plume that rose to 4,900 m above the summit. The Washington VAAC reported the plume at 8.5 km altitude, the highest for the period of this report. During the last few days of October, the wind changed to the S, resulting in reports of moderate ashfall in Napo province in the towns of San Luis, San Carlos (9 km S), El Salado (14 km S), El Chaco (33 km SW), and Gonzalo Díaz de Pineda (El Bombón, 26 km SW).
Persistent ash emissions continued during November 2017 along with observations of incandescence at the summit crater. Plumes of steam, gas, and ash were reported over 600 m above the summit throughout the month; the Washington VAAC issued multiple daily aviation alerts with plume heights averaging 4.3-4.9 km altitude, usually drifting W. Higher altitude plumes over 6.0 km were reported a few times with the highest during 11-12 November rising to 6.7 km. There were reports in the morning of 1 November of ashfall in Borja and San Louis (SE) and on 4 November of minor ashfall in the communities adjacent to the volcano. Incandescent blocks were seen rolling 300 m down the flanks during 7-9 November. Heavy rains on 20 November resulted in a lahar on the E flank. During 22-27 November blocks rolled as far as 800 m down all the flanks, with many on the S and SE flanks (figure 82).
Although multiple daily aviation alerts continued throughout December 2017 from the Washington VAAC, weather clouds often prevented satellite observations of the ash plumes. When visible, plume heights were generally 4-5 km altitude, drifting W or NW; the highest plume on 17 December reached 5.5 km and drifted WNW before dissipating. IGEPN noted incandescence at the summit on almost all nights it was visible; incandescent blocks traveled as far as 900 m down all the flanks on 11 December, and 400-800 m most nights. They also reported ash plumes rising more than 600 m above the summit 24 days of the month. A video of typical activity at Reventador was taken by Martin Rietze during 1-7 December 2017, along with numerous excellent photographs (figures 83-85).
Activity during January-March 2018. Except for several cloudy days during the third week of January 2018 when no observations were possible, IGEPN reported recurring emissions of steam, gas, and ash rising over 600 m and drifting mostly W or NW throughout the month. During 11-12 January ash plumes briefly drifted E. Incandescent block avalanches were reported most often traveling 200-400 m down the S and SE flanks; a few times they travelled up to 800 m down all the flanks. Other than the cloudy days of 20-24 January, the Washington VAAC issued multiple daily aviation alerts. When ash plumes were visible in satellite imagery, plume altitudes ranged from 4.3-4.9 km, except for 30-31 January when they were reported at 5.2 km (figure 86).
Multiple daily aviation alerts continued from the Washington VAAC throughout February 2018. While daily plume heights mostly averaged 4.3-4.9 km altitude, there were a greater number of higher-altitude ash plumes than during recent months. A plume on 5 February was reported at 6.1 km drifting 15 km N and a plume the following day drifted 30 km ENE at 7.6 km altitude. A plume on 16 February rose to 5.5 km and drifted 55 km NW; one on 22 February rose to 7.0 km and drifted almost 100 km SE before dissipating. The next day, a plume rose to 5.5 km and drifted 35 km SE. Two separate plumes were observed in satellite imagery drifting NE on 25 February, the first rose to 5.5 km and drifted 110 km and the second rose to 6.4 km and drifted 45 km before dissipating. IGEPN reported a plume of steam, gas, and ash on 27 February that rose over 1,000 m above the summit and drifted NE. Although IGEPN only reported incandescent avalanche blocks on 11 days in February, more likely occurred because the view was obscured by weather clouds for 14 days of the month.
Minor ashfall in the vicinity of the volcano was reported by IGEPN on 1 March 2018. They also noted steam and gas plumes containing moderate amounts of ash that rose over 2,000 m above the summit and drifted SW and S that day (figure 87). IGEPN reported ash emissions around 600 m or higher above the summit on 21 days during the month. In addition to persistent incandescent activity at the summit, avalanche blocks rolled down all the flanks 800 m numerous times. A pyroclastic flow was reported 400 m down the S flank on 13 March (figure 88). Incandescent blocks rolled 1,000 m down all the flanks on 22 March. Other than a plume reported in satellite imagery at 5.8 km moving E on 26 March, all of the ash plumes reported by the Washington VAAC during March ranged from 3.9-4.9 km altitude and generally drifted NW or W.
Geological Summary. Volcán El Reventador is the most frequently active of a chain of Ecuadorian volcanoes in the Cordillera Real, well east of the principal volcanic axis. The forested, dominantly andesitic stratovolcano has 4-km-wide avalanche scarp open to the E formed by edifice collapse. A young, unvegetated, cone rises from the amphitheater floor about 1,300 m to a height comparable to the rim. It has been the source of numerous lava flows as well as explosive eruptions visible from Quito, about 90 km ESE. Frequent lahars in this region of heavy rainfall have constructed a debris plain on the eastern floor of the scarp. The largest recorded eruption took place in 2002, producing a 17-km-high eruption column, pyroclastic flows that traveled up to 8 km, and lava flows from summit and flank vents.
Information Contacts: Instituto Geofísico, Escuela Politécnica Nacional (IGEPN), Casilla 17-01-2759, Quito, Ecuador (URL: http://www.igepn.edu.ec/); Washington Volcanic Ash Advisory Center (VAAC), Satellite Analysis Branch (SAB), NOAA/NESDIS OSPO, NOAA Science Center Room 401, 5200 Auth Rd, Camp Springs, MD 20746, USA (URL: www.ospo.noaa.gov/Products/atmosphere/vaac, archive at: http://www.ssd.noaa.gov/VAAC/archive.html); Hawai'i Institute of Geophysics and Planetology (HIGP) - MODVOLC Thermal Alerts System, School of Ocean and Earth Science and Technology (SOEST), Univ. of Hawai'i, 2525 Correa Road, Honolulu, HI 96822, USA (URL: http://modis.higp.hawaii.edu/); MIROVA (Middle InfraRed Observation of Volcanic Activity), a collaborative project between the Universities of Turin and Florence (Italy) supported by the Centre for Volcanic Risk of the Italian Civil Protection Department (URL: http://www.mirovaweb.it/); Martin Rietze (URL: http://mrietze.com/web16/Ecuador17.htm).