Report on Manam (Papua New Guinea) — November 2004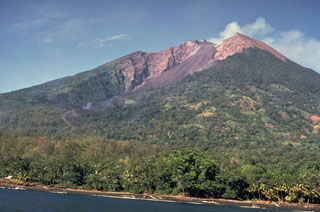 Manam
Bulletin of the Global Volcanism Network, vol. 29, no. 11 (November 2004)
Managing Editor: Richard Wunderman.

Manam (Papua New Guinea) Vigorous late-2004 eruptions cause 5 deaths and lead to large evacuations
Please cite this report as:

Global Volcanism Program, 2004. Report on Manam (Papua New Guinea) (Wunderman, R., ed.). Bulletin of the Global Volcanism Network, 29:11. Smithsonian Institution. https://doi.org/10.5479/si.GVP.BGVN200411-251020
Manam
Papua New Guinea
4.08°S, 145.037°E; summit elev. 1807 m
All times are local (unless otherwise noted)
Several periods of eruption took place on the island of Manam during the last months of 2004. Rabaul Volcano Observatory (RVO) noted outbursts during 24-31 October (BGVN 29:10), 10-12 November, and on 6 December. Several other plumes were noted as well. Satellite-based alerts (MODVOLC) were noteworthy during this interval, having been absent for over 9 months.
On 6 December, the newspaper The National reported that these eruptions had killed five people, whose deaths were primarily related to respiratory complications from inhaling volcanic material. Volcanic ash damaged crops, water supplies, and houses. News accounts discussed evacuations, with the possibility of evacuating all or most of the island (figure 12). The news also mentioned food shortages after the 24 October eruption.
Figure 12.

Geography of the area around Manam showing two named villages on the island and numerous settlements on the main island of New Guinea. For scale, Manam Island is ~ 10 km in diameter. The volcano is sometimes referred to as Mount Iabu in the regional press. The city of Wewak lies off the map, ~ 160 km W of Manam; the city of Madang lies ~ 150 km to the E. The large meandering river at left is the Sepik. The island's residents, a total of 9,467 people, rely on subsistence farming and fishing for food, and copra and cocoa as a source of income. Map courtesy of Jorgen Aabech.
The government of Papua New Guinea presented a new website, The National Disaster Center, which broadly disseminates government disaster information including volcano reports and updates (see URL under Information Contacts, below). The website contained a Manam hazards map. Other documents on that site noted shifting winds and the lack of a clearly safe area on the island during the late 2004 crisis. It said that the government would sponsor large-scale evacuations beginning on 27 November 2004.
The eruptive episode that began on 24 October continued at least a week (figure 13). By 31 October, the eruption at Main Crater consisted of Strombolian activity, with ash and scoria emissions. Tephra of ~ 1 cm diameter were deposited in Warisi village on the SE side of the island. Small pyroclastic flows were generated, and fresh lava flowed into the NE radial valley. The lava flow followed the Boakure side of the valley, covering older flows from the 1992-1994 eruption. Beginning on the morning of the 31st, the amount of continuous volcanic tremor increased to moderate-to-high levels, so the Alert Level was increased from Stage 1 to Stage 2. Villagers were advised to remain away from Manam's four main radial valleys.
Figure 13.

Image of Manam and vicinity acquired on 24 October 2004 by the Moderate Resolution Imaging Spectroradiometer (MODIS), an instrument on the Terra satellite of the National Aeronautics and Space Administration (NASA). Dark ash rising from Manam drifted NW along and then away from the N coast of the main island, New Guinea. Courtesy NASA Earth Observatory.
The Darwin Volcanic Ash Advisory Center reported the 24 October outburst (BGVN 29:11). On 31 October during 0813-1449 they noted a plume at ~ 13.7 km altitude drifting SE on visible satellite imagery. The Aviation Color Code was at Red, the highest level.
According to a news report, ". . . [~ 0.3 m] of ash with hot pumice" landed on the roofs of houses, and ash drifted as far W as Wewak, ~ 100 km away. Reportedly, ~ 4,000 villagers moved to safer areas.
On 2 November around 2325 a possible eruption may have produced a plume to ~ 7.6 km altitude, which drifted SE. Ash was visible on satellite imagery on 8 and 9 November at an altitude of ~ 3 km; on 9 November the plume extended, ~ 55 km to the NE.
A Strombolian eruption occurred during 10-11 November 2004. The ash column from the eruption was estimated to have risen ~ 5-6 km above the crater, and perhaps rose as high as ~ 9 km above the crater, according to an Air Niugini pilot. The activity was accompanied by continuous weak to moderate roaring and rumbling noises and frequent loud explosions. Light ash and scoria fall was reported near local villages. As of 2130 on 10 November ash reached 7 km altitude and 147 km to the SW. As of 12 November, the ash emissions reached 10 km altitude and extended laterally 74 km W to NW of the volcano.
During this reporting interval Darwin VAAC noted that a SE-drifting plume was visible on satellite imagery on 31 October during 0813-1449 at an altitude of ~ 13.7 km.
A satellite image from the Terra Moderate Resolution Imaging Spectroradiometer (MODIS) on 15 November shows a large brown ash plume blowing SW (figure 14).
Figure 14.

Manam image acquired 15 November 2004 from Moderate Resolution Imaging Spectroradiometer (MODIS) passing overhead on the National Aviation and Space Agency (NASA) Terra satellite. Dark ash rises from Manam and drifts SW over New Guinea. Courtesy NASA Earth Observatory.
According to RVO scientists, on 23-24 November Main Crater ejected glowing lava and discharged an ash cloud that rose ~ 10 km high. A lava flow was also reported to be heading for two villages on the island. At 1850 on 23 November, a phase of strong Strombolian eruption began producing a continuous, thick ash column that rose about 10 km above the summit. The ash cloud emissions were accompanied by projection of glowing lava fragments, loud roaring and rumbling noises, and occasional loud and banging noises that produced shock waves. A continuous bright red glow visible down the NE valley indicated emplacement of a lava flow.
The lava flow was reported heading NE towards villages of Kolang and Bokure 1. In addition to the lava, Manam emitted large rocks. Around this time the aviation red alert issued for aircraft noted that the ash plume extended 130 km SE of Manam.
Press accounts stated that emergency officials said an area was being cleared on the mainland for a possible full-scale evacuation of Manam's ~ 9,500 islanders. Evacuation was to become compulsory if activity intensified from Stage 3 (which was set by 22 November) to Stage 4. Some 20 bush homes had collapsed due to 'mud rain' (presumably, falling tephra), and five people had been injured.
RVO reported that a slight increase in eruptive activity from Main Crater began after 1600 on 26 November, which continued until 0800 on the 29th. Summit activity consisted of continuous forceful emission of thick dark gray ash clouds that rose less than 1 km above the summit before being blown NW. Fine ashfall to the NW at Zogari and Iassa villages was reported from about 1700. A single weak roar was heard between 0600 and 0700 on the 27th.
Seismicity was moderate to moderate-high at 2300 on the 26th and 0800 on the 27th. Volcanic tremors continued to be recorded suggesting the system remained dynamic and capable of ongoing variable eruptions, with sporadic more vigorous phases.
On 28-29 November, RVO reported that ash clouds were rising less than 1 km above the summit before being blown by the shifting NNE and NNW winds. Fine ashfall was reported at Warisi. Weak roaring noises were heard between 1900-2400 on the 28th. A weak glow with weak projections of incandescent lava fragments was visible during the night of the 28th, and Southern Crater released thin white vapor only.
Some press reports described 7,900 persons evacuated from Manam. According to the Planet Diary web site, about 9,000 people were evacuated by 1 December 2004 as the eruption grew more violent.
Mid-afternoon on 5 December RVO noted a slight change in activity at Southern Crater marked by commencement of sub-continuous weak to moderate roaring and rumbling noises. The noises continued until 1000 that day. As darkness fell, intervals of visibility occurred (eg., during 1800-1808, 2030-2108, and 2130-2200); observers saw sub-continuous lava fountaining. Meanwhile, from Main Crater there came a series of sub-continuous, forceful, moderately thick, gray-brown ash-laden clouds, which were occasionally visible above the weather clouds. The ash plume rose between about 600 and 900 m above the summit and drifted to the E and NE. Light ashfall and fine scoria fell at the villages Abaria and Bokure 1. Fluctuating audible noises consisted of low roars, 'jet engine' roars, and occasional still-louder roars. Although visibility was generally poor due to volcanic ash clouds from both craters, observers could still make out variable glow coming from the craters.
On 8 December 2004, The National reported that, according to RVO, Manam erupted starting on the morning of 6 December. Fist-sized scoria were thrown out of the vent into the air, hitting houses in the villages below. The eruption began at 0800 and peaked at 1150 with "seismicity continuing."
The National also reported that a pyroclastic flow occurred in the SE valley during the 6 December eruption, with ash and cloud directed NW. On the 6th, residents of Madang (~ 150 km E of Manam) described feeling tremor or ground motion; those in Wewak (~ 160 km to the W) reported similar sensations and also noted volcanically derived dust. Although ash from 6 December was apparently widespread, Googling for news of Manam ash in Irian Jaya failed to turn up any reports from there.
The Darwin VAAC reported ash plume sightings from satellites during 12-14 December, and the RVO reported moderate eruptions continuing in that period.
Fatalities. An article by Bonney Bonsella in The National showed pictures of Manam Islanders in evacuation. They waded through shallow surf to board through the open bow of a large beached landing craft. The article discussed fatalities during the eruption.
"The volcanic eruption on Manam Island in the Madang province has so far claimed five lives—two elderly women and three children between the ages of 5-13. The coordinator of the Manam evacuation exercise Camillus Dugumi confirmed the deaths, adding that the deaths were linked to respiratory complications resulting from inhaling volcanic ashes and dust. Mr Dugumi, who is also the district health programme manager, said one of the deaths was that of an elderly women from Bokure village recorded early last week at the Bogia District hospital. The women died after being admitted to the hospital for respiratory complications. One child, a little boy, died on Friday at the Asuramba care centre after suffering pneumonia."
"Three others—an adult women and two other children—had died during earlier volcanic activity on Manam."
Displaced residents. The above-mentioned article related that three State-owned plantations (called Asuramba, Potsdam, and Magem (and Daigul?)) were set aside, ". . . at least for the time being[,] to accommodate a speedy resettlement of the displaced Manam islanders." Another news article noted that these plantations are near the town of Bogia (figure 4). The National Disaster Center website noted that "The three plantations were bought off from the lessee in 1995 for K1.25 million following a National Executive Council decision for the purpose of resettlement of Manam Islanders displaced by volcanic activity." Controversies remain with respect to land issues. Still, that website noted that the long-term solution advocated by the President, Manam Local Level Government is to resettle the people of Manam on the mainland. For this purpose the Provincial Disaster Committee has identified State land to resettle the Manam Island people.
MODVOLC. The MODIS infrared instrument flown on the NASA Terra and Aqua satellites showed an impressive set of thermal alerts beginning 21 October 2004 (figure 15). Since the beginning of MODVOLC operations (BGVN 28:01) thermal alerts occurred at Manam during only two periods. The first, 7 April-21 May 2002, was related to increased Strombolian activity (BGVN 27:05). The second period, 21 October until at least 14 December 2004, was associated with the current crisis and was a time when alert ratios and summed radiances reached higher values than during the first period. These parameters are consistent with a highly active vent and/or lava flows, and in accord with vigorous Strombolian emissions seen in the field.
Figure 15.

MODVOLC thermal alert ratios, number of alert pixels, and summed 4 mm radiance plots for Manam from 1 January 2001 until 31 December 2004. Alerts occurred only between 7 April and 21 May 2002 and between 21 October and 14 December 2004. Thermal alerts collated by Charlotte Saunders, and David Rothery; data courtesy of the Hawaii Institute of Geophysics and Planetology's MODIS thermal alert team.
This analysis of MODIS thermal alerts (using the MODVOLC alert-detection algorithm) is based on data extracted from the MODIS Thermal Alerts website maintained by the University of Hawaii HIGP MODIS Thermal Alerts team.
Thermal alerts are based on an 'alert ratio,' and an alert is triggered whenever this ratio has a value more positive than -0.8. This threshold value was chosen empirically by inspection of images containing known volcanic sites at high temperature, and is the most negative value that avoids numerous false alarms. There are also some day-time alerts, which are based on the same algorithm but incorporating a correction for estimated solar reflection and a more stringent threshold whereby the alert ratio is required to be more positive than -0.6 in order to trigger an alert.
Geological Summary. The 10-km-wide island of Manam, lying 13 km off the northern coast of mainland Papua New Guinea, is one of the country's most active volcanoes. Four large radial valleys extend from the unvegetated summit of the conical basaltic-andesitic stratovolcano to its lower flanks. These valleys channel lava flows and pyroclastic avalanches that have sometimes reached the coast. Five small satellitic centers are located near the island's shoreline on the northern, southern, and western sides. Two summit craters are present; both are active, although most observed eruptions have originated from the southern crater, concentrating eruptive products during much of the past century into the SE valley. Frequent eruptions, typically of mild-to-moderate scale, have been recorded since 1616. Occasional larger eruptions have produced pyroclastic flows and lava flows that reached flat-lying coastal areas and entered the sea, sometimes impacting populated areas.
Information Contacts: Rabaul Volcano Observatory (RVO), P.O. Box 386, Rabaul, Papua New Guinea; National Disaster Centre, Department of Provincial Affairs and Local Level Government (Ministry of Inter-Government Relations), PO Box 4970, Boroko, National Capital District, Papua New Guinea (URL: http://www.pngndc.gov.pg/); David Innes, Flight Safety Office, Air Niugini; Andrew Tupper, Darwin Volcanic Ash Advisory Centre, Australian Bureau of Meteorology (URL: http://www.bom.gov.au/info/vaac); Jorgen Aabech, Skogbrynet 40B, N-1709 Sarpsborg, Norway (URL: http://www.vulkaner.no/); MODIS Thermal Alert System, Hawaii Institute of Geophysics and Planetology (HIGP), School of Ocean and Earth Science and Technology, University of Hawaii at Manoa (URL: http://modis.higp.hawaii.edu/); David Rothery and Charlotte Saunders, Department of Earth Sciences, The Open University, Milton Keynes, MK7 6AA, United Kingdom; Kevin Pamba and Bonney Bonsella, The National (URL: http://www.thenational.com.pg/).