Report on Asosan (Japan) — July 2019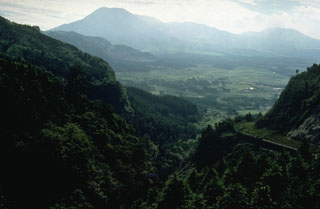 Asosan
Bulletin of the Global Volcanism Network, vol. 44, no. 7 (July 2019)
Managing Editor: Edward Venzke. Edited by A. Elizabeth Crafford.

Asosan (Japan) Multiple brief ash emission events during April and May 2019; minor ashfall in adjacent villages
Please cite this report as:

Global Volcanism Program, 2019. Report on Asosan (Japan) (Crafford, A.E., and Venzke, E., eds.). Bulletin of the Global Volcanism Network, 44:7. Smithsonian Institution. https://doi.org/10.5479/si.GVP.BGVN201907-282110
Japan's 24-km-wide Asosan caldera on the island of Kyushu has been active throughout the Holocene. Nakadake has been the most active of 17 central cones within the caldera for 2,000 years. Historical eruptions have been primarily basaltic to basaltic-andesitic ash eruptions, with periodic Strombolian activity, all from Nakadake Crater 1. The most recent major eruptive episode began in late November 2014 and continued through 1 May 2016. Another eruption, with the largest ash plume in 20 years, occurred on 8 October 2016. Asosan remained quiet until renewed activity from Crater 1 began in mid-April 2019; it is covered in this report, through the end of June 2019. The Japan Meteorological Agency (JMA) provides monthly reports of activity; the Tokyo Volcanic Ash Advisory Center (VAAC) issues aviation alerts reporting on possible ash plumes.
Asosan remained quiet during 2017 and 2018 with steam plumes rising a few hundred meters from Crater 1 and low levels of SO2 emissions; a warm acidic lake was present within the crater. Fumarolic activity from two areas on the S and SW wall of the crater rim generated occasional thermal anomalies in satellite data and incandescence at night. A brief period of increased seismicity was reported in mid-March 2019. An increase in seismic amplitude on 14 April 2019 preceded a small explosion on 16 April; it produced an ash plume which rose 200 m above the crater rim and drifted NW. It was followed by additional small explosions on 19 April. A new explosion on 3 May produced minor ashfall in adjacent communities; ash emissions were reported multiple times during May with plumes reaching 1,400 m above the crater rim. No additional ash emissions were reported in June.
Activity during 2017 and 2018. JMA reported that no eruptions occurred during 2017. Amplitudes of volcanic tremor increased somewhat during March but were generally low for the rest of the year. The earthquake hypocenters were mostly located near the active crater at around sea level. SO2 emissions were slightly less than 1,000 tons per day (t/d) from January through April; for the rest of the year they ranged from 600 to 2,500 t/d. The Alert Level had been lowered from 2 to 1 on 7 February 2017 where it remained throughout the year. Steam plumes generally rose no more than 600 m above the active crater rim (figure 42). JMA noted that from January to June they often observed crater incandescence at night with a high-sensitivity surveillance camera; Sentinel-2 satellite images also captured thermal anomalies a few times (figure 43). The green lake inside the crater persisted throughout the year with water temperatures of 50-60°C. Two fumaroles were present with high-temperature gas emissions on the SW and S crater walls. Temperatures at the S crater wall were over 600°C from February to May; they decreased to 320-560°C during the rest of the year (figure 44). Sulfur deposits were visible around the SW crater wall fumarole during July.
The Alert Level did not change at Asosan during 2018, and no eruptions were reported. Sulfur dioxide emissions fluctuated between 400 and 1,800 t/d throughout the year. Steam plumes generally rose less than 500 m above the active crater (figure 45); incandescence was observed at night during May-October and sometimes observed in satellite imagery as thermal anomalies (figure 46). The temperature of the green lake inside the crater ranged from 58 to 75°C throughout the year. The thermal anomaly on the S wall of the crater was consistently in the 300-500°C range, and had a high temperature in April of 580°C; in December the high temperature had risen to 738°C (figure 47). A brief increase in the number of isolated tremors occurred during March, with 1,044 reported on 4 March, exceeding the previous maximum of 1,000 on 27 October 2014. Seismicity also increased briefly during June, with more than 400 events reported each day on 8, 18, and 20 June. The Minami Aso village Yoshioka fumarole zone, located about 5 km W of Nakadake Crater 1, continued to produce modest steam plumes throughout 2017 and 2018 (figure 48).
Activity during January-June 2019. Steam plumes rose to 800 m above the crater rim during January 2019. Overall activity increased slightly during February; SO2 emissions peaked at 2,200 t/d early in the month; they ranged from 800 to 1,800 t/d for most of the month. The amplitude of volcanic tremor also increased slightly during February. A further increase in tremor amplitude on 11 March 2019 prompted JMA to raise the Alert Level from 1 to 2 the following morning. Volcanic tremor amplitude decreased on 15 March; JMA determined that activity had decreased, and the Alert Level was lowered back to 1 on 29 March 2019. The amount of water in the crater decreased significantly between 27 February and 20 March, exposing part of the crater floor.
The surface temperature of the lake rose during the first part of 2019; it was 78°C in February and 84°C in March. Steam plumes rose to 1,200 m above the crater rim during March and April. SO2 emissions rose to 4,500 t/d on 12 March but dropped to a lower range of 1,300-2,400 for the rest of the month. Another surge in SO2 emissions on 12 April 2019 to 3,600 t/d prompted a special report from JMA the following day. SO2 emissions varied from about 1,700 to 4,100 t/d during the month; values remained high during the second half of the month. JMA noted that the color of the water in the lake inside Nakadake Crater 1 changed from green to gray after 4 April. Fountains of muddy water were periodically observed; they reached 15 m high on 9 April. The temperatures of both the lake (82°C) and around the two fumarole areas (S area about 530°C, SW area about 310°C) remained constant during April and similar to March.
A large increase in the amplitude of volcanic tremor early on 14 April 2019 prompted JMA to raise the Alert Level from 1 to 2 later in the day. The epicenters of the earthquakes were very shallow, located within 1 km beneath the crater. A small eruption occurred at 1828 on 16 April at Nakadake Crater 1; it produced a gray and white plume that rose 200 m above the crater rim and was the first eruption since 8 October 2016 (figure 49). Incandescence was observed inside the crater on 3 and 17 April. The amplitude of seismic tremors decreased on 18 April. Three very small eruptions on 19 April produced ash and steam plumes that rose 500 m above the crater rim. During a site visit that day JMA measured a high-temperature area that produced incandescence from the bottom of the crater at night (figure 50).
A new eruption began at 1540 on 3 May that lasted until 0620 on 5 May (figure 51). Initially the ash plume rose 600 m above the crater rim, but a few hours later the volume of ash increased, and the plume reached 2 km above the crater rim for a brief period. Incandescence was visible from the webcam. The Tokyo VAAC reported the ash plume at 3 km altitude drifting SE on 3 May. Later in the day it rose to 3.7 km altitude and drifted SW. During a field survey the following day (4 May) JMA reported a steam and ash plume rising from the center of the active crater. The infrared thermal imaging camera recorded the temperature of the plume at about 500°C (figure 52).
Ash fell on the S flank, and a small amount of ashfall on 4 May was confirmed by evidence on a car windshield in Takamori Town (6 km S), Kumamoto Prefecture (figure 53). Ashfall was also reported in Takamori-machi, Minami Aso village (9 km SW), and part of Yamato-cho (25 km SW), also in the Kumamoto Prefecture. SO2 emissions were measured as high as 4,000 t/d on 4 May. Additional explosions with ash plumes were reported from Asosan on 9, 12-16, 29, and 31 May; the plumes rose from 200 to 1,400 m above the crater rim but were not visible in satellite imagery. The TROPOMI instrument on the Sentinel-5 satellite captured SO2 plumes on 3 and 26 May 2019 (figure 54).
Steam plumes rose to 1,700 m above the crater rim during June 2019 (figure 55). During field visits on 6 and 25 June diffuse ash emissions were observed rising from the center of the active crater, but they did not extend significantly above the crater rim (figure 56). The maximum temperature of the plume was measured at about 340°C with a thermal imaging camera. Almost all of the water in the crater bottom had evaporated since early May; incandescence continued to be observed within the crater at night with the high-resolution webcam (figure 57).
Geological Summary. The 24-km-wide Asosan caldera was formed during four major explosive eruptions from 300,000 to 90,000 years ago. These produced voluminous pyroclastic flows that covered much of Kyushu. The last of these, the Aso-4 eruption, produced more than 600 km3 of airfall tephra and pyroclastic-flow deposits. A group of 17 central cones was constructed in the middle of the caldera, one of which, Nakadake, is one of Japan's most active volcanoes. It was the location of Japan's first documented historical eruption in 553 CE. The Nakadake complex has remained active throughout the Holocene. Several other cones have been active during the Holocene, including the Kometsuka scoria cone as recently as about 210 CE. Historical eruptions have largely consisted of basaltic to basaltic-andesite ash emission with periodic strombolian and phreatomagmatic activity. The summit crater of Nakadake is accessible by toll road and cable car, and is one of Kyushu's most popular tourist destinations.
Information Contacts: Japan Meteorological Agency (JMA), Otemachi, 1-3-4, Chiyoda-ku Tokyo 100-8122, Japan (URL: http://www.jma.go.jp/jma/indexe.html); Tokyo Volcanic Ash Advisory Center (VAAC), 1-3-4 Otemachi, Chiyoda-ku, Tokyo, Japan (URL: http://ds.data.jma.go.jp/svd/vaac/data/); Sentinel Hub Playground (URL: https://www.sentinel-hub.com/explore/sentinel-playground); Global Sulfur Dioxide Monitoring Page, Atmospheric Chemistry and Dynamics Laboratory, NASA Goddard Space Flight Center (NASA/GSFC), 8800 Greenbelt Road, Goddard, Maryland, USA (URL: https://so2.gsfc.nasa.gov/).